Foreigners Boost Brazil Bets as Election Heads to Final Stretch
(Bloomberg) -- Brazilian stocks are on track for their best quarter of foreign inflows in a year as the country approaches an election seen as critical for getting the economy back on track.
Foreign investors poured 2.14 billion reais ($524 million) into Brazilian equities last week, pushing the total on the second half of the year to 8.4 billion reais, according to exchange data compiled by Bloomberg.
For local stocks, which have been on a volatile stretch, improving corporate earnings' and cheap valuations have been offsetting uncertainty on the outcome of the October election and its impact on Brazil's fiscal outlook, seen as key by investors. The benchmark Ibovespa is up 3.1 percent this year, while emerging market stocks are down by 9.6 percent.
Election polls have shown increasing odds of a runoff between candidates who have opposing views on how to fix Latin America's largest economy. Former Army captain Jair Bolsonaro, who leads the race, has enlisted an adviser who is in favor of privatizations and overhauling the pension and tax systems. Workers' Party Fernando Haddad, on the other hand, wants to jump-start the economy by boosting government spending and offering cheap credit, policies seen as having the potential to drag Brazil into another recession.
"It is pretty interesting that flows are in positive territory since July considering the market uncertainty globally and locally," JPMorgan Chase & Co. strategist Emy Shayo wrote in note. Flows are recovering amid an "undemanding" valuation and as "earnings are pointing to an expansion ahead," she said.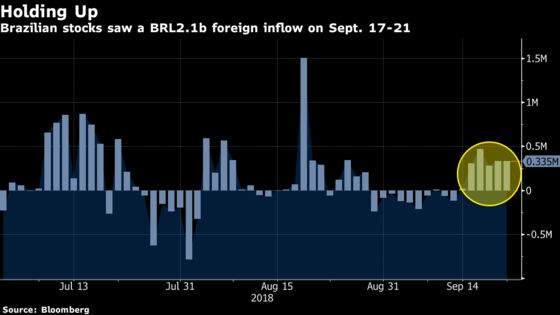 The inflows also come on the back of a negative start of the year, when foreign investors pulled almost 10 billion reais from the local market, and differs from the move seen in Brazilian equities abroad: the biggest exchange-traded fund of Brazilian stocks has seen outflows of money since July.
Foreigners are also reducing their negative bets on the currency as the campaign reaches the final stretch. Short positions on the real fell to about $32 billion from $40 billion at the start of the month.
Markets have been volatile ahead of the election, concerned the left is gaining ground. Bolsonaro had 27 percent of voter intentions, according to an Ibope poll published Wednesday, followed by Haddad at 21 percent. The Workers' Party candidate would win a runoff by 42 percent to 38 percent. The first round vote is on Oct. 7, and if no candidate gets a majority, the top two will move to a runoff on Oct. 28.
"The second round seems to be coming into view a bit earlier then expected, and so the candidates are making pushes to the center already," said Mariana Guarino, a money manager at brokerage Truxt. "That's helping ease some of the pressure on Brazilian assets."