Ford's Stock Slump Sends Dividend Yield to Highest Since 2001
(Bloomberg) -- Ford Motor Co.'s plummeting share price has sent its dividend yield to the highest in 17 years, an indication of just how rich a disbursement the company is paying during troubled times.
The automaker's stock fell to $9.20 on Tuesday, the lowest close since August 2012. That means Ford's 15 cents a share quarterly dividend currently has an annualized yield of 7.93 percent, a level last seen in September 2001.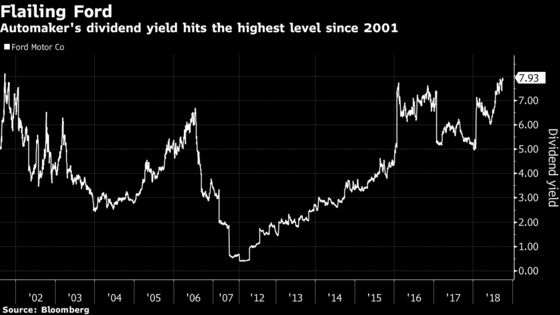 Wall Street has warned that Ford may have to pare back its rich dividend -- the most generous among its automotive peers -- as earnings evaporate overseas and the company initiates a restructuring that it's said may cost $11 billion and take as much as five years. The company has insisted it'll maintain the payout.
Representatives for Ford didn't immediately respond to a request for comment.