Ford's 'Better-Than-Feared' Quarter Triggers Relief Rally
(Bloomberg) -- Ford Motor Co. shares were on track to post their biggest one-day gain since 2011 as investors who had endured a plunge of as much as 34 percent this year took solace in the fact that the automaker did not lower its guidance when it reported third-quarter earnings.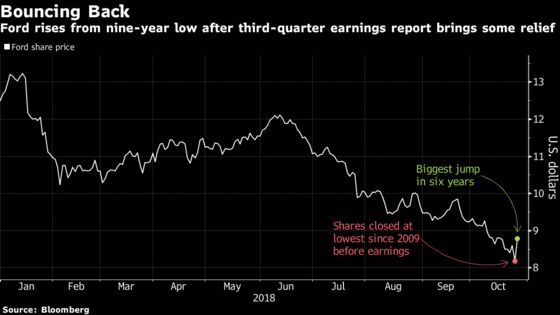 The shares rallied as much as 8.7 percent Thursday after the company reiterated its financial outlook even as the industry grapples with slowing demand in China, a drag from a new European regulations, soaring material costs and tariff-related uncertainties.
Perhaps of bigger relief to investors were comments regarding the safety of Ford's dividend, RBC Markets analyst Joseph Spak wrote in a research note. Managers said in their earnings presentation that they're "committed" to maintaining an investment-grade credit rating, a strong balance sheet and the regular dividend.
Here's a roundup of analyst commentary post results.
Morgan Stanley, Adam Jonas
Third-quarter results help calm negative sentiment and falling expectations in the equity and credit markets at a time when the company is working hard to secure partnerships, finalize restructuring measures and explore other value-enhancing exercises.
Ford reiterated its full year EPS guidance of $1.30 to $1.50, which is some relief to the market at or below the low end of this range.
Equal-weight, price target $10.
Goldman Sachs, David Tamberrino
Despite lower revenue and continued international headwinds, better North American Ebit driven by a better mix and healthy FMCC unit profits drove the earnings beat. Says the quarterly results were better than feared.
Ford maintained its EPS guidance, which investors reacted positively to as positioning was negative going into the print with most investors expecting a guidance cut on continued China headwinds.
However, the tax rate revision without an associated upward revision to the EPS guidance range does imply a slight Ebit guidance cut for the full year.
Neutral, price target $9.
Expectations were low, but the quarter was fine and 2018 guidance was reiterated.
Bigger relief to investors was commentary regarding safety of the common dividend.
Early signs of turnaround taking hold, but it's a long journey and details are still scant.
Sector perform, price target $9.50.
Consumer Edge, James Albertine
Positive market move may be because the market had cut too far and perhaps too indiscriminately in recent weeks off macro concerns.
Any restructuring effort, if not addressed quickly, may ultimately prove fatal to the dividend if the core business come under duress in event of a market downturn in the coming 12-18 months.
Equalweight, price target $9.
Buckingham, Joseph Amaturo
Remains cautious given a lack of specificity regarding the fitness plan and where we are in the pricing and volume cycle, notably in North America.
The stock will likely have somewhat of a rally early in the day, but fade throughout the trading day tomorrow as investors focus on the third-quarter cash burn.
Neutral, price target $9.
Jefferies, Philippe Houchois
Against low and falling expectations, Ford delivered better news where it matters most -- N.A., credit, and poor news where expected -- China, Europe, which should reassure on GM and Fiat Chrysler next week.