For Volatile Saudi Stocks, a Happy Ending Is Likely Every Day
(Bloomberg) -- Saudi stocks have been posting extreme swings amid the fallout from the death of journalist Jamal Khashoggi. But these days, they almost always end on a bright note.
Those watching the kingdom's main index through the day are becoming accustomed to seeing the market retreat during the initial hours, only for those losses to be trimmed or completely erased as the close of trading approaches.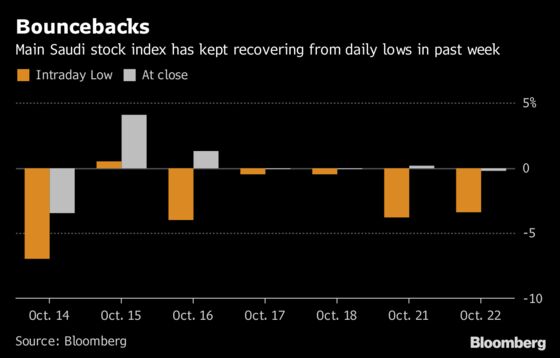 In every session this past week, the Tadawul All Share Index has ended at a much-improved level from its intraday low, with the recovery typically occurring in the final hours of trading. On Monday, the gauge started reversing a 3.2 percent drop about 30 minutes before the close, to end the day just 0.2 percent lower. On Tuesday, the index fell as much as 1.7 percent, and was down 1.1 percent as of 11:10 a.m. in Riyadh.
Traders say funds tied to the government might be at work supporting equities following a sell-off last week that was fueled by foreigners and private investors. Net purchases by Saudi institutional investors jumped to the highest in more than a year for the week ended Oct. 18, when volatility climbed to the highest level since early 2016.
"Fund managers are saying that this is destroying the basic structure of the market," said Joice Mathew, the head of equity research at United Securities in Muscat, Oman. "Instead of analyzing company fundamentals, they are now forced to think about what funds tied to the government would do on a daily basis. This is affecting the confidence of investors, especially foreigners."
All of which may ultimately sap appetite when members of the Tadawul are added to emerging-markets indexes compiled by MSCI Inc. and FTSE Russell next year, he said.