For the Muni-Bond Market, It's the Worst Week Since 1987
(Bloomberg) -- Municipal-bond bankers, traders and investors are closing out their worst week since 1987.
State and local government debt is headed toward a 4.2% loss, the biggest weekly drop since at least May 1987, according to data compiled by Bloomberg. That wiped $66 billion from the Bloomberg Barclays municipal-bond index's market capitalization.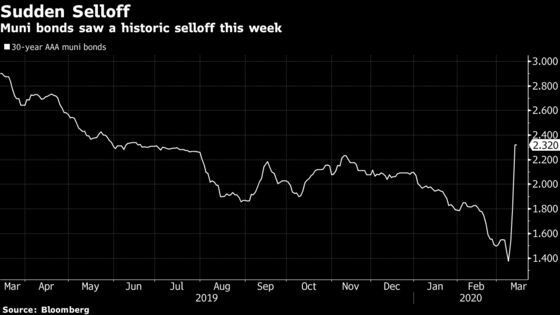 It's unclear whether more pain is ahead as the coronavirus threatens to shut down broad swaths of the economy and causes fearful Americans to pull out their cash. The market showed signs of stabilizing on Friday, much to the relief of investors who saw 30-year benchmark yields jump about half a percentage point on Thursday alone, a record. Yields were mostly unchanged on Friday afternoon.
UBS Financial Services strategists said in a note on Thursday that they expect more volatility until there are signs of containment of the virus. They said investors are likely to keep pulling their money from mutual funds, which could slow down a rebound in prices.
People in the industry can commiserate with others, like stock traders, who had a bad week, too. In 1987, municipals at first felt the hit alone. That May, the state and local securities market fell 5% in a week. Later that year, the stock market crashed in a rout known as Black Monday, which wasn't rivaled until this week.
Related: A Day of Hell: The Muni Market's Worst Day in Modern History