FOMO Redrawing U.S. Stock Charts as Investors 'Ride the Wave'
(Bloomberg) -- The best August in 34 years. The fastest start to a September in a decade. Eleven gains in 13 sessions, with records coming almost daily.
The superlatives are piling up for American equities that lately seem to only go higher. And while stocks at all-time highs are bound to make for some eye-popping charts, the relentlessness of the latest rally is pushing some measures of velocity to levels that are turning heads among strategists and money managers.
"All of a sudden, you see some investors say we've got to catch up and they keep wanting to pour more money into momentum and ride the wave," said Chris Gaffney, president of world markets at TIAA Bank. "There's risk there, of course -- there's always risk when you start chasing. But, on the other hand, if the wave is going to continue, you ride it as long as you can."
The following charts depict some of the extreme moves seen in stocks lately:
The S&P 500 is trading about 15% above its average price for the previous 200 days, a gap that demonstrates the persistence of the gains. The last time it got that extended, in January 2018, a historic volatility shock ensued and the S&P 500 tumbled into a correction. Back then, the Nasdaq 100 was about 17% above its 200-day moving average. Now, it's 30% higher than it.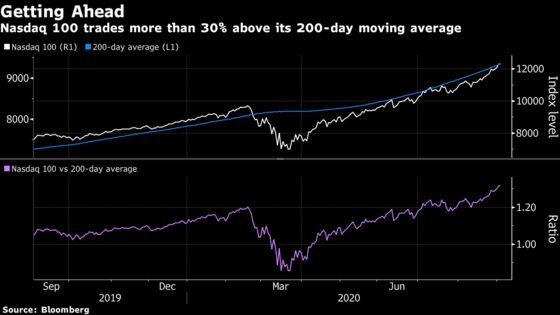 "This matters only for the short term, but reflects how extended we've gotten," said Peter Boockvar, chief investment officer at Bleakley Advisory Group.
The S&P 500's 14-day Relative Strength Index (RSI) -- which measures the magnitude and persistence of price movement -- is flashing a major warning sign. When the RSI passes 70, the index is considered overbought. It's now above 80, the highest in almost three years.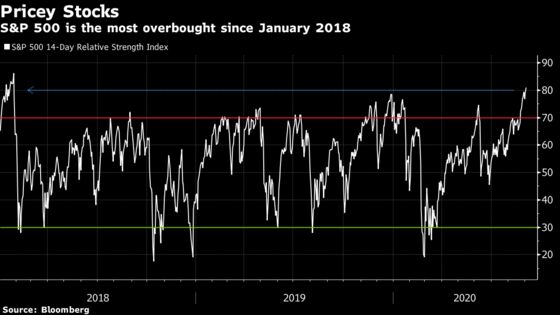 The wave's been rolling so furiously, it's virtually washed out all the bears. Bets against New York Stock Exchange-listed stocks fell to a six-year low in mid-August, according to Sundial Capital Research. That's more than 10% below the long-term trend in short interest.
When bullish bets have been similarly low, stocks have delivered below-average gains in the short-term, Jason Goepfert, president of Sundial, wrote in a note this week.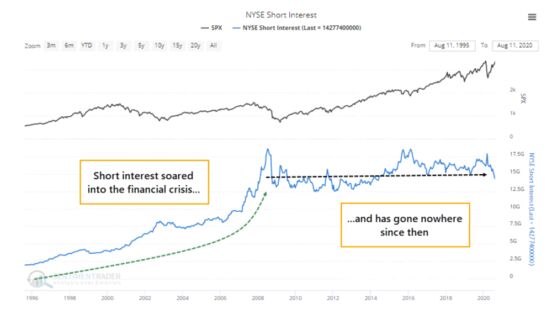 Similarly, readings of investor bliss have hit levels not seen since the dot-com era. Citigroup's panic/euphoria model, which tracks metrics from options trading to short sales and newsletter bullishness, is having its longest run of extreme bullishness since the early 2000s. A reading that tracks buying momentum against selling momentum in the S&P 500 has climbed to a record.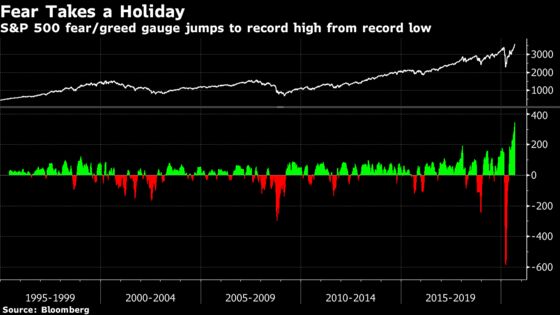 And then there are the technology stocks that have propelled the rally from the start and remain its motor today. Apple Inc. and Tesla Inc. are the stalwarts, surging Monday simply because their shares became more affordable following a stock split. Apple's the first American company to top $2 trillion in market value, while Tesla's on a tear of 880% in the past year.
But it's a broad rally in the space, too. The S&P 500 tech index is headed for a 10th straight gain in its longest rally since February 2019. The tech-heavy Nasdaq 100 is up 41% this year, besting the S&P's advance by about 30 percentage points. That's pushed the relative strength of the Nasdaq over the S&P 500 to the highest on record.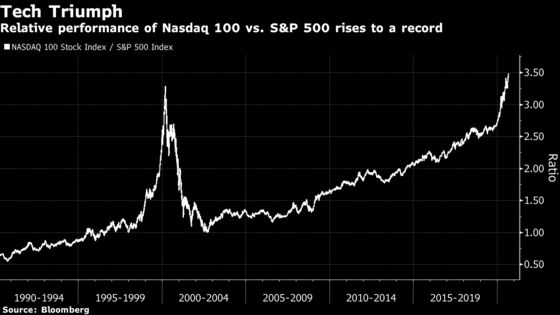 Matt Miskin, co-chief investment strategist at John Hancock Investments, is overweight tech due to the sector's strong balance sheets, higher margins and return on equity.
"Those components remain a compelling bull case for the tech sector," he said in an interview. "Valuations are getting stretched -- we fully see that -- but as you look across markets right now, there's a big divergence between those companies that are keeping earnings afloat and those that are seeing significant negative earnings results."