Hurricane Michael Expected to Bring Flooding, Bird Deaths to Chicken Territory
(Bloomberg) -- Hurricane Michael is expected to whirl through areas of southern Georgia, South Carolina and North Carolina, idling chicken and egg farms and fertilizer mines.
Preparations have already begun in Georgia, the No. 1 chicken-producing state, with companies closing down operations early and relocating birds, said Will Sawyer, an economist at CoBank. The storm will touch areas comprising 30 percent of the U.S. chicken market, Sawyer said.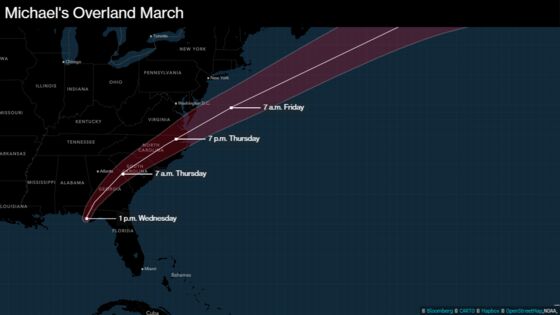 The core of Michael -- which made landfall on the Florida panhandle Wednesday afternoon -- is forecast to move across southeastern Alabama and southwestern Georgia on Wednesday evening, according to the U.S. National Hurricane Center.
"I would expect to see bird losses in south Georgia over the next 24 hours" due to flooding, Sawyer said by phone Wednesday.
Cal-Maine Foods Inc., the biggest egg producer, on Wednesday closed down operations in Quincy, Florida, which has about 800,000 birds. The company isn't expecting other locations to be affected. Meanwhile, Nutrien Ltd., a fertilizer producer, is shutting down mines and some plants at its White Springs, Florida, phosphate facility.

While the storm may idle plants and disrupt supply chains, it likely won't move the needle on low breast-meat prices, Sawyer said. Wholesale breast prices have fallen to a record low in U.S. Department of Agriculture data, creating price wars for chicken nuggets. The country is brimming with meat, including large supplies of beef and pork.
Tyson Foods Inc. and Sanderson Farms Inc. didn't immediately respond to requests for comment.