Five Charts Show Record Year in Europe's Primary Bond Market
(Bloomberg) -- Europe's primary bond market posted a record-breaking 1.38 trillion euros ($1.54 trillion) of deals this year, as Brexit risks, economic concerns and trade tensions spurred issuers to lock in super-low borrowing costs.
Marketwide issuance jumped 22% helped by a flood of U.S. company deals including jumbo offerings from Danaher Corp., Fidelity National Information Services Inc., or FIS, and Medtronic Plc. The sterling market similarly saw a bumper year, as overseas borrowers, such as KfW and Berkshire Hathaway Inc., offset lackluster domestic issuance.
Investors also enjoyed 2019, with a credit rally fueling positive total returns across the market after last year's rout.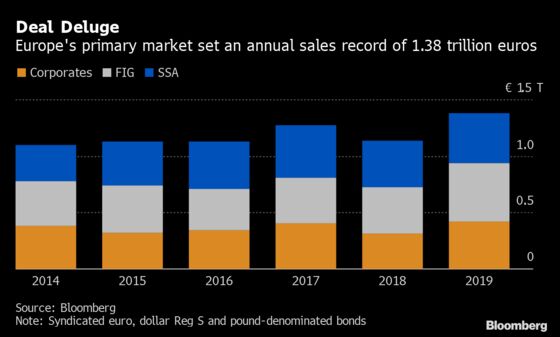 All three market segments posted sales growth this year, after volatility and U.S. tax reforms dented issuance in 2018. Corporates led the way with a 37% sales jump to 422 billion euros, compared with a 23% increase for financials and a 10% rise for the sovereign, supranational and agency sector. As well as being the slowest-growing, SSA was also the only segment to fall short of its 2017 sales total.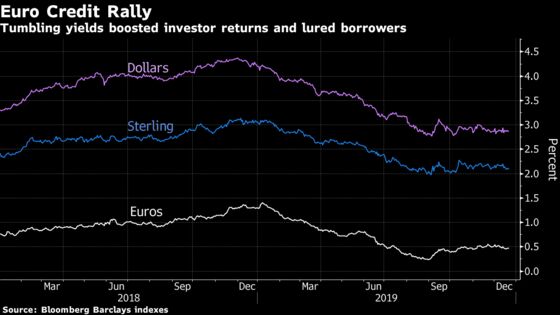 This year's deal rush was stoked by a credit rally that cut high-grade euro borrowing costs to a record-low 0.23% in late August, based on Bloomberg Barclays index data. Political factors were another driver of the 2019 issuance boom as borrowers including China returned to the euro market to pare their reliance on dollar debt.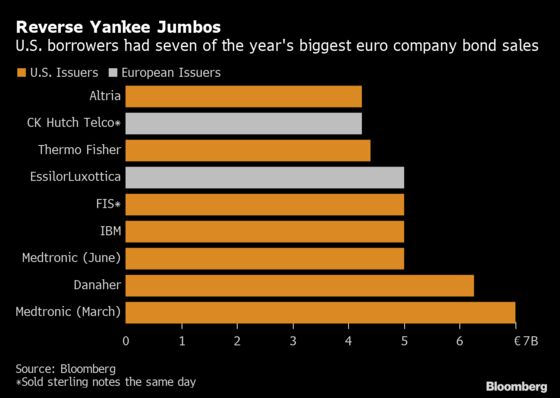 U.S. companies more than doubled sales of euro bonds this year to a record-breaking total surpassing 130 billion euros, spurred by low borrowing costs. Medtronic led the way with two jumbo sales totaling 12 billion euros. Marketwide, there were six company deals of 5 billion euros or more this year, of which five came from the U.S. By contrast, there were only three deals of that size last year, none of which by U.S. borrowers.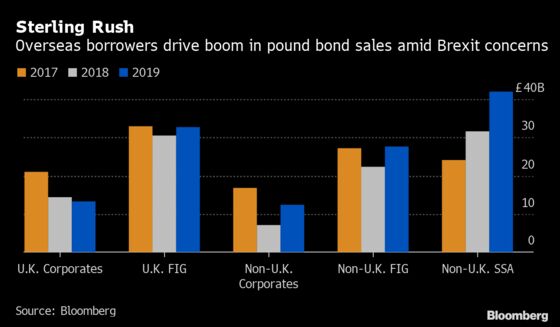 Pound bond sales surged 23% to 129 billion pounds ($169 billion), as a deluge of overseas borrowers masked tepid domestic issuance amid Brexit concerns. German development bank KfW fueled the international charge, boosting issuance more than 80% to about 8 billion pounds, according to data compiled by Bloomberg. Warren Buffett's Berkshire Hathaway Inc. and payment processor FIS were also among foreign visitors to the pound market as sterling investors pounced on overseas assets as a guard against Brexit risks.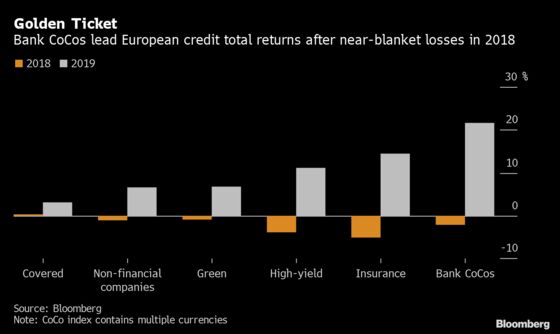 Even with the deluge of issuance, total returns bounced back this year as economic concerns and renewed European Central Bank stimulus measures drove investors into fixed-income assets. Euro investors are set to reap returns surpassing 20% from CoCos this year after the riskiest form of bank debt surged back from a first ever loss in 2018, based on a mixed-currency Bloomberg Barclays index. Euro high-grade bonds are on track to return about 6.5%, the most since 2014.