Fitch Raises Greece's Status Making It Easier to Sell New Debt
Fitch Ratings raised Greece's sovereign credit rating by one notch, paving the way for the government to sell more debt in the coming days.
The Mediterranean country's long-term foreign currency debt was upgraded to BB with a positive outlook from BB-.
While Greece hasn't enjoyed such a high rating by Fitch since the country entered the bailout era in 2010, it's still two levels below investment grade, highlighting that the Greek government has to do more so as to secure an exit from junk status.
"For now our estimate for trend GDP growth is unchanged at 1.2% but tangible progress in the government's policy agenda (aimed at improving the business climate and attracting private investment) could underpin an improvement in medium-term GDP growth," Fitch said in a statement.
Fitch's upgrade helps with a government plan to issue a new bond as soon as next week. Greece has no need to borrow money to cover its 2020 financing needs but wants to sell as much as 10.65 billion euros ($11.76 billion) to show a return to normality after a decade-long debt crisis.
While not yet finalized, the Finance Ministry may sell a new 15-year bond as a first step in the country's financing program for this year. Investor interest in such an offering would signal they believe in Greece's long-term debt sustainability as 15-year notes will mature in 2035. That's after a safety net expires, which the euro-area provided with debt relief measures agreed in 2018.
The main challenge facing Greece's economy is the reduction of bad loans that currently stand at some 75 billion euros. The government has put in place an Italian-style solution to help banks cut their non-performing exposures and lenders are now trying to make use of it.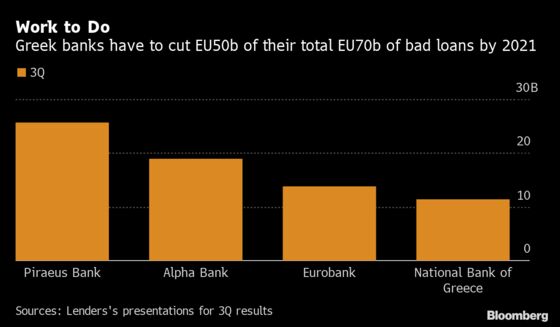 The so-called Hercules project foresees the packaging of soured debt into securities that will then be sold with the use of a partial state guarantee. It aims to help banks cut their bad loan by some 40% over the next few years.
Fitch expects banks to "accelerate the pace of reduction in 2020."
"However, banks' asset-quality clean-up plans, which aim to reduce non-performing exposure ratios in two to four years to single digits remain sensitive to Greece's operating environment and investors' appetite for distressed assets, as well as the effectiveness of the legal framework," Fitch said.
Read More: It's Show Time for Greece's Hercules Plan to Slash Bad Loans
Greece needs to move quickly to introduce a single insolvency framework, especially abolishing a law that stops primary residences from being auctioned off when owners fail to pay mortgages. The current protection will end in April and the government has to agree with the country's creditors a new framework.
If Prime Minister Kyriakos Mitsotakis successfully completes this task, then he'll ask Greece's creditors for more fiscal space so he can implement all the tax relief he promised austerity weary Greeks.
A first round of talks on possible measures for more fiscal room took place last week when a creditor mission was in Athens for Greece's fifth post-bailout review.