First-Time Marijuana Use in Canada Doubles After Trudeau Legalizes Toking
(Bloomberg) -- Now that marijuana is legal, more Canadians are trying it.
According to a government report released Thursday, 646,000 Canadians said they tried cannabis between January and March. That's almost double the 327,000 who reported toking for the first time during the same period a year earlier. Half of the new users were 45 and older.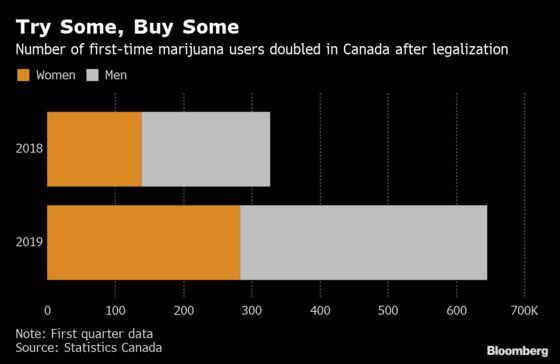 The latest figures from Statistics Canada show smokers are indeed dumping their dealers and taking above-board means to acquire weed. About 47 percent purchased cannabis from legal sources in the first quarter, more than double the proportion a year earlier. Still, 38 percent of users obtained cannabis from illegal sources, down from 51 percent in the same period last year. And just 23 percent of first-time users got their weed from illegal sources.