First Latin America Virus Case Sends Currencies Into Tailspin
(Bloomberg) -- The first coronavirus case in Latin America sent currencies tumbling across the region Thursday as investors became increasingly risk averse.
All Latin American currencies were among the worst performers in emerging markets, with Brazil's real reaching an all-time low despite the central bank intervention and the Mexican peso dropping to the weakest since early December. Both the Colombian and Chilean pesos were on track to reach their all-time lows.
The bloodbath underscores fears about the impact of the virus outbreak to a region that is already suffering from weak growth and had been spared the illness until this week. Brazil reported Latin America's first coronavirus case Wednesday and said there are 20 more suspected cases in the country.
"The market had a narrative of contained regional effects; now that narrative has changed and we have seen broad de-risking across the board," said Juan Prada, a currency strategist at Barclays in New York. "The Mexican peso had been shielded by carry, but now positions are being unwound, the Colombian peso had been resilient despite lower oil, but now we see some capitulation there."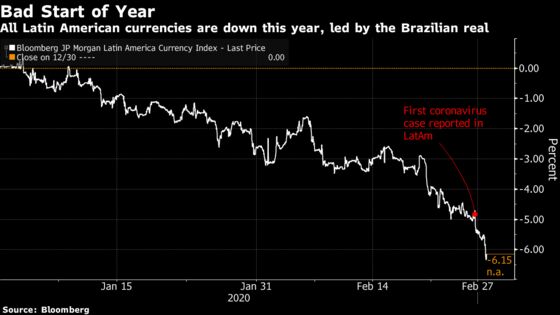 While local assets had already been dragged down amid the global sell-off, investors are now assessing the direct impact of the illness on earnings and the economy. Shares of travel-related companies were among the worst performers in Brazil, Mexico and Chile over the past two days, with airline companies such as Gol Linhas Aereas Inteligentes SA and Azul SA plunging about 20% and Latam Airlines Group SA down over 10%.
Bonds followed suit. Ten-year dollar notes from all major Latin American countries fell and five-year credit default swaps spreads rose, led by a 17 basis point jump in Brazil.
"As long as there's uncertainty regarding the magnitude of the shock to global growth, Latin American currencies can remain weak," said Armando Armenta, a New York-based economist and strategist at AllianceBernstein LP. "Low levels of inflation mean central banks are comfortable with the observed level of depreciation and would not act with conviction to try to lean against the wind."