Firm Leasing $200,000 Pianos Linked to Fraud Behind OSB Loss
(Bloomberg) -- A $40 million potential fraud that threatens to wipe out a chunk of OSB Group Plc's profits is linked to a client with a niche business line: piano leasing.
The British lender has filed to place Duet Capital (Holdings) Ltd. into administration, a form of U.K. bankruptcy, and contacted the Financial Conduct Authority about the suspected fraud, according to a corporate filing and people familiar with the matter. The company leases pianos to some of the U.K.'s most exclusive boarding schools and recently expanded into Croatian property investment, company filings show.
OSB shares tumbled after the bank warned earlier this month that potential wrongdoing related to an unidentified third party could result in a credit loss of as much as 29 million pounds ($40 million), equivalent to about 12% of its estimated profit for 2020. The exact nature of the suspected fraud and identity of the alleged perpetrators is unclear.
A spokeswoman for Chatham, Kent-based OSB declined to comment. A spokeswoman for the FCA also didn't comment. Duet didn't respond to multiple requests for comment.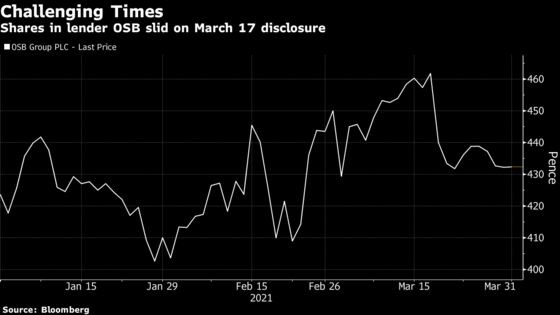 OSB Group is one the so-called challenger banks, which were established to take on Britain's lenders in the wake of the financial crisis. While regulators have praised the increased competition, they also had to grapple with issues. In 2019, Metro Bank Plc was found to have miscategorized the risk-weightings for large numbers of its loans. The Bank of England has warned that fast-growing lenders may be underestimating the risks to their business models from a downturn.
The bank, led by Chief Executive Officer Andy Golding, specializes in commercial mortgages and business lending. OSB said on March 17 that it "very recently" become aware of the suspected fraud, which is linked to a funding line that's secured against "lease receivables and the underlying hard assets." The bank has delayed the publication of its annual results until April 8 and appointed accountancy firm Smith & Williamson LLP as administrator of Duet.
"Our primary objective as joint administrators is to seek the best outcome for the company's creditors, including the employees at its offices in Ashford, Kent," Smith & Williamson said in a statement. "The business will continue to trade whilst we consider how best to achieve this objective. We are considering all options including the sale of the business."
OSB first began lending to Duet in 2015, filings show. Some of the leasing deals have been backed by loans made by Close Brothers Group Plc, a London-based merchant bank. Andy Donald, an external spokesman for Close Brothers, declined to comment.
Duet has leased pianos and other instruments to schools including Harrow, which counts Winston Churchill among its former pupils, while the Royal Conservatoire of Scotland is also a client, company filings show. The firm, whose pianos are worth as much as $227,100 each according to its website, has also worked with piano maker Steinway & Sons in the U.S. and discussed with advisers an initial public offering on London's Alternative Investment Market, the accounts show. It has no links to a London-based investment firm of the same name.
JC Flowers & Co., the finance firm founded by Wall Street mogul J. Christopher Flowers, created OSB in 2011 after rescuing the former Kent Reliance Building Society. The company joined a wave of new British lenders that emerged after the financial crisis to take on the nation's major banks. JC Flowers exited in 2018 and OSB's shareholders now include Jupiter Fund Management Plc and JPMorgan Chase & Co., Bloomberg data shows.
Analysts said OSB was likely to weather the alleged fraud but also warned it might highlight broader concerns.
"The direct impact appears relatively limited," analysts at Barclays Plc have said, although "this may raise a number of indirect questions" related to the bank's risk management.