Finnish Finance Ministry Warns More Austerity Is Needed Now
(Bloomberg) -- Trade-reliant Finland is unprepared to weather a coming global economic downturn and its next government stepping into office later this year should boost buffers while it still can, the Finance Ministry warned.
At least 2 billion euros ($2.3 billion) of budget cuts will be needed to generate a surplus of about 0.5 percent for public finances over the next four years, civil servants at the ministry said in a report published on Monday. Actions are needed to quickly fill up government coffers and improve fiscal strength, especially as a recession could again hit the Nordic country over the next four years, they said.
"Fiscal buffers for the next downturn are slim and the sustainability problem remains unsolved," the report said.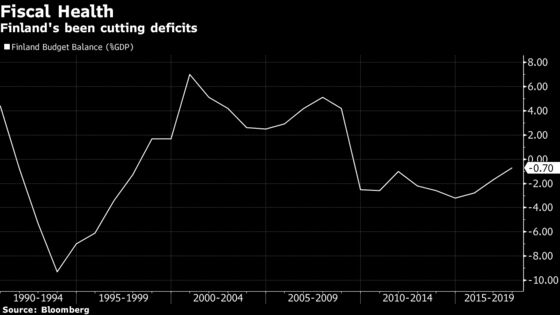 But further austerity is likely to be a hard sell for a population that has just endured years of fiscal restraint as Finland sought to dig its way out of an economic crisis. Given the splintered nature of Finnish politics and the tradition of building coalition governments, there's much pressure on political parties to satisfy voters and keep popular spending programs in place.
For instance, the social and health care revamp that's been more than a decade in the making now again appears to have scant chance of passing in parliament with just six weeks left of the legislature's term ahead of general elections on April 14.
The ministry warned the government that it's living dangerously with the current level of public spending, especially since pension and care costs will continue to rise. Without reforms, the government will end up having to decide on new austerity measures annually to keep the deficit and debt in check, officials warned.
With a rapidly aging population, making public finances sustainable still requires measures equal to almost 4 percent of gross domestic product, or 10 billion euros at the 2023 level. Even so, previous governments haven't sat on their hands: a successful pension reform and extensive austerity have helped reduce the gap, but there's more work to be done since demographics are forecast to worsen faster than before.