Finnish Economic Growth Accelerates Less Than Estimated 
(Bloomberg) -- Finland's economy grew less than previously estimated in the final three months of 2018 and the outlook for exports is now dimming amid global trade tensions.
Gross domestic product in the euro area's northernmost member state rose 0.7 percent from the previous three-month period, slightly below a Feb. 14 flash estimate of 0.9 percent. The economy expanded 2.2 percent from a year earlier (adjusted for the number of working days), according to Statistics Finland data out Thursday.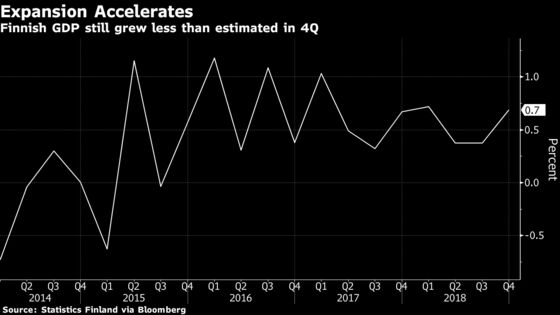 Trade activity was brisk in the fourth quarter, with imports growing more than exports. Investments and private consumption also increased, while government spending fell.
While the economy enjoyed decent growth in the fourth quarter, more recent indicators point to souring prospects. Export-reliant Finland is vulnerable to trade tensions and a slowdown in global growth.
The 19-country euro area, where Finland's key export markets lie, has suffered an almost non-stop barrage of downbeat data suggesting the economy is losing pace.
Chief Economist Timo Hirvonen at S-Bank and FIM said risks to the economic outlook have increased at the start of the year and noted that a key question for 2019 is how fast Finland's economy can grow when the euro area slows down.
Danske Bank Chief Economist Pasi Kuoppamaki highlighted the role of inventories and statistical error in the second half figures, saying it's partially unclear what spurred growth in the period. He also noted increased research and development spending supporting competitiveness, even as labor productivity fell.