Makers of Fighter Jets, Soap Boost 2020 Guidance: Earnings Wrap
(Bloomberg) -- Companies ranging from industrial majors to consumer heavyweights boosted their full-year guidance Tuesday, pointing to earnings strength despite the pandemic -- and in some cases, because of it.
At least seven companies raised their forecasts before market opened, including aerospace giant Lockheed Martin Corp., consumer-products company Procter & Gamble Co., Philip Morris International Inc. and Prologis Inc. Although only 67 companies in the S&P 500 companies have reported third-quarter earnings, so far the trend is positive, with more than 80% beating estimates, according to data compiled by Bloomberg.
The results helped lift U.S. stocks, which also got a boost from hope for a stimulus deal before the Nov. 3 election. The S&P 500 has recovered all the losses triggered by the pandemic, though it's pulled back from last month's record close amid concern about rising coronavirus case numbers and further economic fallout.
Among the companies that reported Tuesday morning, Procter & Gamble Co. rallied the most in six weeks, while Lockheed Martin and Philip Morris slipped.
F-35 jet maker Lockheed Martin Corp. boosted its full-year earnings per share and sales guidance even as the U.S. government, its biggest customer, runs a record deficit due to pandemic-related spending.
Procter & Gamble was the most obvious beneficiary of people spending more time at home. The consumer giant reported its best organic sales growth since 2005. The maker of Charmin toilet paper and Tide detergent also raised its revenue growth outlook to a range of 4% to 5% for the fiscal year that ends in June 2021.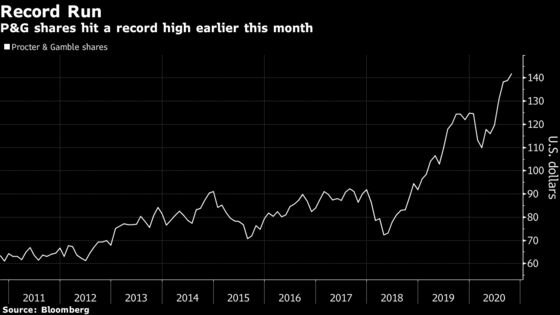 "This isn't a flash in the pan," Chief Financial Officer Jon Moeller told Bloomberg. "I don't see any reason that we shouldn't be able to sustain strong results."
Philip Morris also boosted its full-year earnings guidance for the second time in recent months despite a nearly 10% drop in cigarette volumes in the third quarter. Its IQOS tobacco-heating device saw a 19% surge in sales in the quarter, indicating growing consumer appetite for cigarette substitutes.
What Bloomberg Intelligence says:
The early part of 3Q earnings season looks a whole lot like 2Q with extremely high and widespread beats, confirmed by stronger-than-expected revenue growth as S&P 500 companies shake off the pandemic-fueled recession. The second straight quarter of record beats doesn't seem to have inspired much confidence, though, as price reactions have been negative and forecasts remain stagnant.

Though only about a 10th of S&P 500 companies have reported so far, 84% have exceeded EPS estimates, the highest rate in 30 years of BI data, Martin Adams said. Almost all sectors are showing positive estimate momentum for 3Q earnings, suggesting analysts were likely caught off guard by the recovery in the period.

-- Gina Martin Adams, Chief Equities Strategist
U.S. futures trimmed gains after reports that federal prosecutors will file an antitrust lawsuit against Google.
Traders are backing away from bets on chaos after the Nov. 3 elections.
The U.S. Justice Department filed an antitrust lawsuit against Alphabet Inc.'s Google, accusing it of abusing its monopoly in search.
Analysts expect Netflix Inc. to report 3.32 million new subscribers in the third quarter after markets close Tuesday.
Here's today's top earnings news by sector:
Procter & Gamble raised its outlook after posting its best organic sales growth since 2005 amid a boom in at-home consumption of toilet paper and cleaning supplies. The maker of Tide detergent and Dawn dish soap now sees organic revenue growing 4% to 5% in fiscal 2021, an increase from the previous outlook of 2% to 4%. Shares rose as much 2.7%.
Albertsons rose as much as 7.4%, the most on record, after virus-wary Americans cooking at home led to another jump in sales growth. Identical-store sales, a key gauge of a retailer's health, climbed 13.8% for the three months ended Sept. 12. The supermarket chain sees that metric for the full fiscal year coming in at 15.5% or more.
Philip Morris raised its earnings forecast a second time and said that smoke-free products such as IQOS expanded to reach a quarter of total revenue. Cigarette volumes fell 9.8%, less than analysts expected, and an outperformance in markets such as the European Union led the company to raise the forecast a month after the last increase. The stock was down 0.3 in early trading.
AMC Entertainment sank almost 12% after the cinema chain reported preliminary third-quarter revenue of $119.5 million, below analysts' consensus estimate of $163 million as compiled by Bloomberg. The company also agreed to sell as many as 15 million shares of its stock to contend with a liquidity crisis that threatens its ability to remain a going concern.
Travelers rose more than 3% after posting better underwriting results in the third quarter while also benefiting from a rebound in markets that took hold after an initial pandemic-induced slump. The insurer reported a record quarter for premium revenue and a 7.9% gain in its investment portfolio. However, Travelers was stung by Mother Nature in the quarter with catastrophe costs totaling $397 million before taxes, up 65% from a year earlier.
Lockheed Martin boosted its earnings per share and net sales forecasts for the full year. The defense company also beat estimates for net sales for the period. The stock was trading little changed after falling as much as 0.9%.
Paccar shares swung between gains and losses after its third-quarter net sales and revenue topped analysts' expectations. The truck manufacturer estimates that it will invest between $575 million and $625 million in capital projects next year.
Canadian Pacific Railway Ltd.'s forecast for capital expenditures for the full year met analysts' expectations. The company's third-quarter adjusted earnings per share missed analysts' projections. The shares fell as much as 2.4% in Toronto.