Fierce Demand Has Lenders Fighting for Crumbs on Loan Terms
(Bloomberg) -- Lenders are clinging to small victories in the fight against aggressive covenants sought by companies looking to capitalize on Europe's red-hot leveraged loan market.
Investor-friendly changes have been scarce this year. Last week software firm P&I Personal & Informatik made minor adjustments but otherwise left untouched documentation that investors looking at the deal said was highly aggressive.
"With so much cash on hand, many of the terms that were being flexed out last year --massive builder baskets, huge restricted payments capacity, limited credit support-- are all coming back in. The question isn't what can the borrower do, the question becomes what can't the borrower do," said Jane Gray, head of European research at credit research firm Covenant Review.
Documentation on European loans has reached its weakest point on record, based Covenant Review's documentation scores.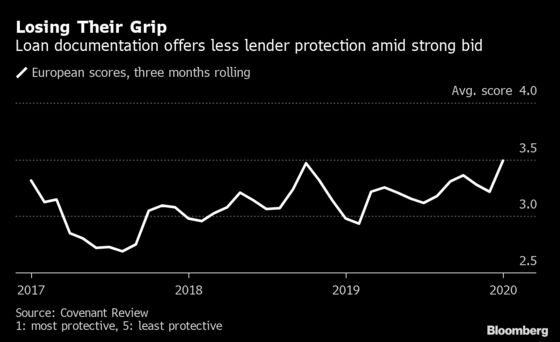 Unable to win sweeping improvements in the face of fierce demand for higher-yielding assets, lenders are focused on protecting themselves on key points. They are trying to resist steep and swift reductions in pricing, prohibitive restrictions on trading the loan, and unlimited adjustments to core earnings.
Documentation changes on a loan for LGC Holdings Ltd in January touched on all these points. P&I's small changes addressed a margin ratchet that would have allowed the interest paid on the deal to drop steeply, and aircraft parts maker Aernnova Aerospace SAU similarly revised the margin ratchet.
"Sponsors know that lenders are trying to hold the line on these areas, so either they don't attempt to change them or they come quickly back into line when pushed," said Gray.
But even on these points, new deals show signs of erosion. Borrowers are seeking as much flexibility as possible around how Ebitda is calculated without asking outright for uncapped adjustments, raising the question of how much protection is really offered by the cap, she adds.
"Where we're being more selective is making sure that companies can weather the cycle and underwriting these credits not based on all the adjustments, but on what we think the actual Ebitda of the issuer is," says Vivek Bommi, a senior portfolio manager at Neuberger Berman, which manages $339 billion in assets. "If there's a significant gap between the two and leverage is too high, we won't invest."