Fiat Chrysler Investors Shrug as U.S. Profits Match GM
(Bloomberg) -- Fiat Chrysler Automobiles NV may have reached the same profit margin in North America as its larger Detroit-based rival General Motors Co., but investors seem unimpressed.
Even as the Italian-American automaker this week nearly fulfilled two big goals set by the late Sergio Marchionne during his tenure as chief executive officer -- declaring a dividend for the first time since the group was formed in 2014 and posting better margins than Ford Motor Co. while matching GM -- Fiat shares extended their slump in Milan, falling as much as 5.3 percent on Wednesday. U.S. shares declined as much as 1.8 percent to $15.10 in New York, the lowest since August 2017.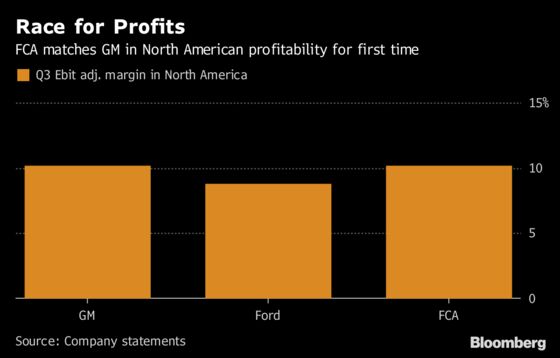 Third-quarter earnings released on Tuesday underscored strength in North America, bolstered by the fast-selling new Ram 1500 and Jeep Wrangler models, but also pointed to growing reliance on the U.S. for profit. The Nafta region accounted for 97 percent of Fiat Chrysler's 2 billion euros ($2.3 billion) in adjusted earnings before interest and taxes in the period, while Europe and Asia suffered losses.
The uneven profit performance, particularly with a new CEO taking the helm, has left some investors unimpressed. "The new management team is walking in the shadow of a giant, and investors' confidence levels are understandably lower," Max Warburton, an analyst at Sanford C. Bernstein & Co., said in a note. "Its narrow earnings base, list of troubles, questions about long-term competitiveness and unproven new management are likely to continue to concern potential investors."
The quarterly results highlight the challenges facing Chief Executive Officer Mike Manley outside the U.S., and threaten to overshadow what would otherwise have been seen as milestones for a company whose two predecessors narrowly escaped oblivion.
Fiat Chrysler posted a record 10.2 percent adjusted Ebit margin in North America, matching GM, and beating Ford's 8.8 percent result in the three months ending in September. GM shares surged as much as 8.8 percent on Wednesday, while Ford gained 2.2 percent.
Fiat Chrysler shareholders say they can be patient.
"The market will eventually recognize the disconnect with Fiat stock," George Schultze, who oversees $100 million, including Fiat Chrysler shares, as founder of Schultze Asset Management in New York, said in an email. "The new CEO is doing a bang-up job."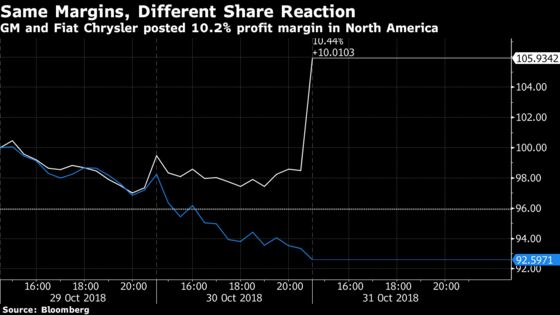 Improving margins is "something that we've shown we can do in North America and we now just need to make sure we do in Europe," Manley told analysts on an earnings call Tuesday. "I see the third quarter as an anomaly." After matching GM, it will be left to Manley to fully realize his predecessor's dream of beating his biggest US rival's margin by the end of this year.