Ferrari World Cooling Provider Sees Analysts Bet on Rebound
(Bloomberg) -- A company that literally cools down some of the most-popular tourist attractions in the United Arab Emirates is trading in the stock market with a potential upside of more than 40 percent, according to an analyst consensus.
Shares of Abu Dhabi-based National Central Cooling Co. PJSC, or Tabreed, which provides air-conditioning services in the Gulf region, closed at the lowest price in nearly six months earlier this week and close to its cheapest level relative to future earnings since 2016.
The retracement could be flashing a buying opportunity, as six analysts tracking the stock have either a buy or overweight rating with return potential in the next year of 44 percent, data compiled by Bloomberg show.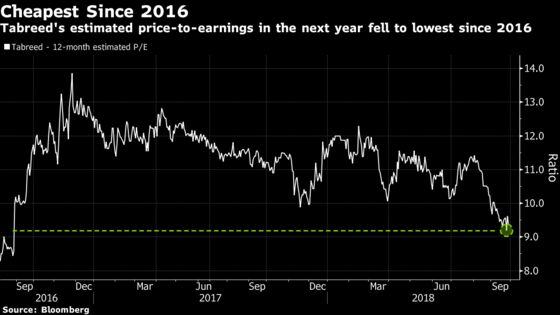 Tabreed trades in Dubai, one of the worst-performing markets globally this year amid concerns tied mostly to a drop in prices for real estate, a pillar of its economy. While a slowdown in this industry has a negative impact on new contracts and possible yield of existing assets for Tabreed, its business model has strong visibility in cash flow, and the company has a "strong relationship" with its current clients, said Harshjit Oza, vice-president of research at Shuaa Capital in Abu Dhabi.
"More than 90 percent of Tabreed's contracts are locked in for the next 10 years," said Oza, who resumed Shuaa's coverage of the company last week with a buy rating. "That means you have a strong visibility over the revenues and earnings. The utility nature of its business ensures preference for payments."
The Gulf is one of the hottest regions in the globe, "and cooling here is a necessity," Oza said. Tabreed is the only company traded within major stock markets in the Middle East that offers an exposure to what's known as district cooling, in which a plant can provide air-conditioning for a network of large-scale businesses, residential towers and commercial establishments.
Tabreed shares were little changed at 1.59 dirhams as of 12:19 p.m. in Dubai.
Some other facts about the company:
Among its clients are the U.A.E. Armed Forces, Abu Dhabi's Sheikh Zayed Grande Mosque, theme parks Ferrari World Abu Dhabi and Legoland, and the 47 stations on Dubai's metro
Tabreed has exposure to Qatar, which is going through a diplomatic embargo by a group of countries including the U.A.E., through a 44 percent stake in Qatar District Cooling Co.
It also has exposure to Saudi Arabia via a 25 percent stake in Saudi Tabreed, which has units serving clients such as oil producer Aramco and real estate developer Jabal Omar
French utility company Engie SA bought 40 percent of Tabreed last year from Mubadala Investment Co. for about $775 million. Mubadala still remains as a stakeholder