Federal Workers Calling in Sick Spotlights Limits on Job Actions
(Bloomberg) -- Whether in protest or out of necessity, a growing number of federal workers whose jobs have been deemed essential are calling in sick or claiming hardship exemptions -- testing the limits of strict laws against organized job actions.
Absenteeism among correctional officers and other workers at a federal prison in West Virginia is running so high that the warden is threatening to declare some AWOL. So many airport security screeners have been skipping work -- one out of 10 on Sunday -- that airports have shut down some lines. Hundreds of Internal Revenue Service employees called back to process tax returns have asked to be excused due to hardship.
"My job and my family's lives are being held hostage by this shutdown," said Ashley Bland, a tax examining technician based in Austin, Texas, who said she is considering putting in for a hardship exemption permitted in the National Treasury Employees Union contract. "I suspect if this goes on another couple weeks, the number of hardships will skyrocket."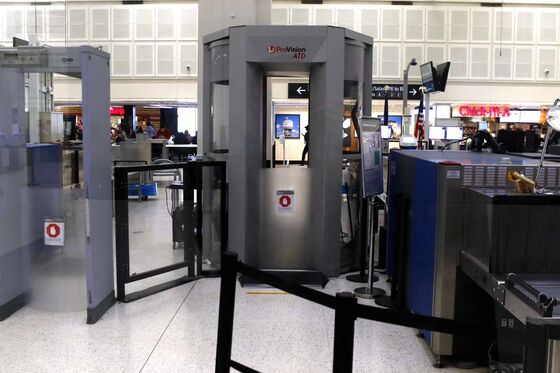 The partial shutdown of the government, sparked by an impasse over security measures along the Mexican border, has lasted more than four weeks. Some government-employee union chiefs and furloughed workers were arrested on Wednesday when they occupied the office of Senate Majority Leader Mitch McConnell of Kentucky, who has agreed to hold votes Thursday to consider competing measures to end the shutdown.
Union leaders stress they aren't encouraging their members to stay home -- something that may be illegal -- but labor experts say calling in sick is one of the only ways federal employees prohibited by law from going on strike can defy demands that they work without pay.
Jonathan Turley, a law professor at George Washington University Law School said many federal workers nearing their second missed paycheck are facing legitimate hardship as the costs of getting to work, child care and other expenses mount.
"It's also clear that some of these absences are due to frustration with the president's position," he said. "Calling in sick is one of the few options they have."
The seminal example of the limited rights of federal government workers to strike occurred in the summer of 1981 when President Ronald Reagan fired more than 11,000 air-traffic controllers who had walked off the job. While legal challenges went on for years, the union was dissolved, the vast majority of fired controllers never returned to their jobs and the action was seen as a warning shot for other government employees.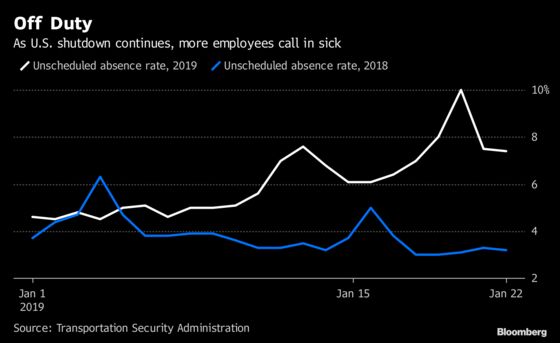 "Even though these situations are pretty different, that precedent really continues to haunt labor," said Joe McCartin, a labor historian and professor at Georgetown University.
Not reporting to work is something of an unnatural act for many federal workers, who are "by and large a pretty dedicated bunch and they're used to following rules," McCartin said.
"They're not natural born rebels, however, they are being driven into a situation, many of them, where they're willing to consider doing things they wouldn't have considered doing two weeks ago, including more of them being willing to call in sick or engage in other kinds of protest," he said.
The IRS has said it needs 46,000 of its roughly 80,000 employees to work without pay during the shutdown. This has led "hundreds" of IRS employees to seek financial hardship exemptions to allow them to remain at home, according to the NTEU, which represents IRS workers. The IRS declined to comment how many workers have requested the exemption or have called out sick.
The NTEU doesn't support employees requesting financial hardship exemptions just as a form of protest and workers should only request it if they cannot afford to report for work, the union said.
"I believe that IRS management understands the stress that employees are under and is doing its best to accommodate the very real hardships employees are experiencing," NTEU president Tony Reardon said in a statement. "Even as IRS employees continue to struggle with a lack of pay, they are dedicated to their jobs and returning to work, as directed, if at all possible."
For some employees, that may not be possible for much longer.
After being diagnosed with lupus and fibromyalgia in November 2010, Bland, the IRS technician from Austin, spends $500 to $600 monthly on medication that is critical to her health. The shutdown has subjected her family to harsh financial strains -- she's been unable to add her husband to her health insurance plan following their December wedding.
"If this shutdown lasts a couple months, I really don't know how am I going to pay for my meds," Bland added. She said that February marks her 10th anniversary at the IRS.
Steve Lenkart, executive director of the 110,000-member National Federation of Federal Employees, expects to see more stories like Bland's as the standoff continues.
"A lot of federal employees can't go out and get second jobs because they're prohibited by federal regulations -- unless you clear a second job with your ethics department and your supervisor approves, you can't get another job, and those ethics people and those supervisors are also on furlough," Lenkart said. That means people who need an income will either defy those ethics restrictions or quit their jobs, he added.
Absenteeism among federal workers at the U.S. Penitentiary, Hazelton in West Virginia, is running three to four times the normal rate and rising, said Rick Heldreth, president of the AFGE local that represents workers at the prison.
"The further this goes and the less gas money, and child care money and food money people have, it's going to fuel the absenteeism even more," he said.
Four violent episodes involving officers occurred within one recent week, compared to one or two in a typical month, he said.
Violence was a concern at the prison even before the government shutdown: it's the facility where Boston mob boss James "Whitey" Bulger was beaten to death last fall. In October, Washington's congressional representative, Eleanor Holmes Norton, asked the Justice Department's inspector general to investigate "appalling conditions" and "brutal treatment" experienced by inmates at Hazelton, where she said employees seemed to be spread thin and insufficiently trained.
Fellow AFGE leaders representing prison workers elsewhere have said they, too, were seeing an increase in violence and absenteeism since the shutdown took effect, he said.
Heldreth said his members calling out from work have legitimate financial hardships, such as long commutes and child care costs that they can't afford without a paycheck. Yet he's concerned that as the shutdown continues, they could be come the target of misconduct investigations.
The prison's warden sent an email to staff on Wednesday saying they would be charged their accrued time off for absences during the shutdown and would be placed on absent-without-leave status if they didn't have time to cover their absences, and that would trigger misconduct proceedings, Heldreth said.
"It was kind of a veiled threat," he said. After-hours calls to the prison systems' public information office were not immediately returned.
The Office of Personnel Management issued a memo on Wednesday that said "excepted" workers on the job without pay who seek to be excused can be treated as furloughed employees, meaning they won't need to use their limited allotment of leave.
Officials at the Transportation Security Administration have been open about the cause of high absenteeism among its 51,000 airport security officers required to work without pay.
"Many employees are reporting that they are not able to report to work due to financial limitations," the agency said in a press release Wednesday.
In the past two weeks, an average of between 6 and 10 percent of screeners have been absent, which is as much as three times the historic rate.
The agency won't attempt to discipline those who fail to show for their jobs and won't press employees for details, agency spokesman Michael Bilello said.
"You can't treat it as a disciplinary action," Bilello said. "It's someone's personal reason for not coming into work."
The TSA screener workforce is among the lowest of paid federal employee groups. They make an average of $41,000, according to the U.S. Department of Labor.
Hydrick Thomas, president of the American Federation of Government Employees Council 100 that represents the TSA officers, said he is encouraging members to stay on the job and is pleased that so many have persevered.
"We got sworn in to the oath to protect the flying public," Thomas said Wednesday while handing out care packages containing food to employees at New York's LaGuardia Airport. "I'm applauding all the workers who have been coming to work."