The Fed's $13 Billion Surprise
(Bloomberg Opinion) -- The Federal Reserve officially stated the obvious: U.S. corporate pension funds have been big buyers of U.S. Treasuries.
This is only newsworthy because the central bank had been seemingly unaware of this glaring trend until late last week. In its flow of funds report released Sept. 20, the Fed showed that corporate defined-benefit pension plans purchased more than $13 billion of Treasury securities in the first quarter. To put it mildly, that's not even close to the roughly $75 million of net selling reported in the same data back in June.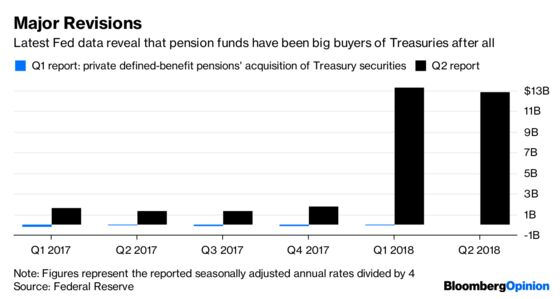 That's a jaw-dropping revision. But again, it's not because anyone in the bond market was caught flat-footed by this phenomenon. I've written about the $3.4 trillion pension industry's influence multiple times in recent months. Traders were acutely focused on Sept. 15 because it marked the deadline for companies to deduct contributions to retirement funds at the 2017 corporate tax rate of 35 percent, instead of at the new 21 percent level. Strategists suspected much of the relentless flattening of the U.S. yield curve was due to this tax incentive.
For Bank of America Corp. strategists Hans Mikkelsen and Yunyi Zhang, the most important takeaway is knowing to take a skeptical view of the flow of funds data — or just avoid it altogether. That may sound harsh, but it's warranted, given the magnitude of the change. In a report published last week, the two strategists provided a reason why all this might have happened: Stripped Treasuries may have been previously misclassified as corporate bonds. The Strips market grew by $25.1 billion in the first six months of 2018, the most ever for such a period, Treasury Department data show. That lines up almost perfectly with the $26.1 billion of pension flows into Treasuries in the first half of this year, based on the latest data compiled by the Fed.
The central bank says "major changes are described in the 'Release Highlights' section of the publication," though there's no mention specifically about pensions' U.S. Treasury holdings. The report comes with caveats aplenty: "There is no specific revision schedule; rather, data are revised on an ongoing basis," and that figures "come from a large variety of sources and are subject to limitations and uncertainty due to measurement errors, missing information, and incompatibilities among data sources." 
This type of uncertainty around pensions is why strategists are torn about the fate of the flattening yield curve. Some argue that we're starting to see a steepening trend emerge. Others reckon that the funds' influence is overblown for a market that's $15.3 trillion in size. It's why Priya Misra, head of global rates strategy at TD Securities, took on the unenviable task earlier this year of wading through earnings reports to see which companies were contributing more to their pensions. She found several examples of major corporations boosting their allocations to retirement funds.
As Misra told Bloomberg News's Liz McCormick last week, "It's psychological: There is a fear regarding Sept. 15 and that pensions aren't buying now. … There is no way to prove to investors that pension buying won't go away, but there are many structural reasons that have nothing to do with Sept. 15 for it to continue."
Whether the bond market trusts the Fed's data to give an accurate picture of that lasting demand remains to be seen.
This column does not necessarily reflect the opinion of the editorial board or Bloomberg LP and its owners.
Brian Chappatta is a Bloomberg Opinion columnist covering debt markets. He previously covered bonds for Bloomberg News. He is also a CFA charterholder.