Fed Survey Says Vaccine Mandates Contributing to Labor Turnover
(Bloomberg) -- Employers across the U.S. are struggling to attract and retain talent, and in some areas, vaccine mandates have made it even more challenging to hold onto workers, the Federal Reserve's Beige Book said Wednesday. 
The central bank said vaccine mandates were "widely cited" as contributing to high labor turnover, along with child-care issues and Covid-related absences. However, diving into the comments of the five regional Fed banks that mentioned vaccines, the repercussions of mandates varied.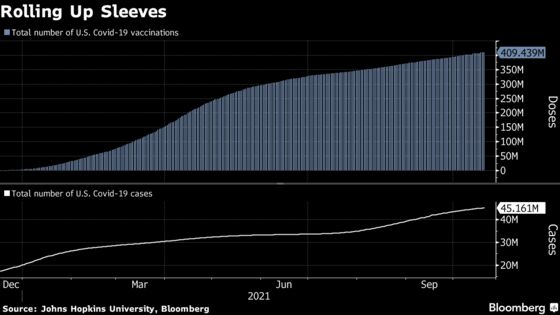 Mandate Comments by Region
Boston: "Manufacturing contacts reported higher labor turnover that some attributed to the lagged effects of the pandemic, and that others had seen in response to vaccine mandates -- although one firm said that its vaccine mandate had not caused any quits."
Philadelphia: "Many firms reported imposing vaccine mandates with relatively few resignations."
Richmond: "A few employers expressed concern that federally mandated Covid regulations, such as vaccine requirements, could exacerbate their workforce challenges."
Atlanta: "Most employers shared that they would like to implement Covid-19 vaccine mandates but were concerned about losing employees. Worries about employee mental health, burnout, safety, and vaccine mandates impacting company culture were mentioned."
Minneapolis: "Federal vaccine mandates were expected to exacerbate labor problems, though in most cases the number of quits induced by the mandate has been smaller than anticipated."