Fed's Williams Says U.S. Can Afford More Support for Economy
(Bloomberg) -- The U.S. can afford plenty of additional government support for the economy even after authorizing almost $3 trillion in fiscal relief measures to counter the impact of the coronavirus pandemic, Federal Reserve Bank of New York President John Williams said.
"From my perspective, we can afford significantly more government support for the economy," Williams said Thursday during a virtual discussion in New York. "Depending on how the economy continues and recovers, we'll have to see whether more fiscal and monetary support is needed, and exactly how it should be designed to help get the economy on a strong, sustained path."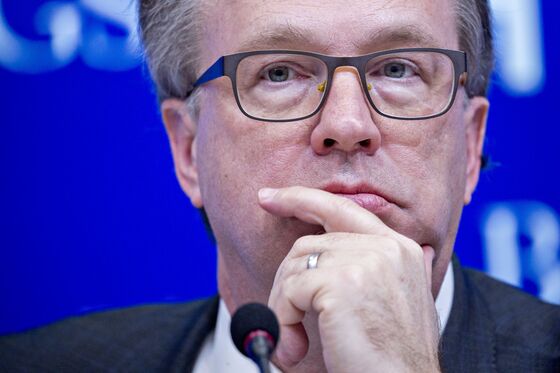 The pandemic has taken a heavy toll on U.S. economic activity and the job market. Some 2.4 million more Americans filed for unemployment insurance benefits in the week ended May 16, bringing the total to 38.6 million since mid-March when stay-at-home orders went into effect, according to Labor Department data published earlier Thursday.
Lawmakers have passed nearly $3 trillion of measures to cushion the blow and are now debating another round of aid. The central bank has slashed interest rates to nearly zero, flooded financial markets with liquidity and rolled out several emergency lending programs. Democrats and Republicans in Washington are debating the scale and timing of further fiscal aid.
Williams voiced confidence that the U.S. economy would fully recovery, though it may take a while to get back to where it had been before the virus struck.
"I expect in the second half of the year to see a rebound in the economy," he said. "I think consumers are likely to be hesitant to get back to the normal flow of life."
The New York Fed chief cautioned that it's too early to know the way forward for the economy because it still depends on the path of the virus, though he added that relaxation of social distancing measures would provide a clearer view of the impact the pandemic has had.
"As social distancing measures are relaxed, we will get a better understanding of how different industries are affected. We know that travel, hospitality, and retail have all been hard hit," Williams said. "What we don't know is what the shape or timescale of the recovery will be. It's going to be some time before we have a clearer view of the effects on other industries."
He also played down the benefits of the Fed following other central banks by adopting a negative interest-rate strategy in the U.S., which some investors have bet on in recent weeks.
"My view is we have the tools without going to negative interest rates," he said. "Negative interest rates is not the right tool to be used right now, right for the situation that we're in."
That remark chimed with similar comments by Fed Chairman Jerome Powell, who told CBS's show '60 Minutes' in an interview that aired on Sunday that he and his colleagues "continue to think" that negative rates are not appropriate in the U.S., noting the evidence on their success was mixed and they could do more harm than good.