The Fed's Dovish Signal Rips Through Currency Markets
(Bloomberg) -- A dovish signal from the Federal Reserve sent shock waves through currency markets Thursday, pushing the dollar down to a six-week low.
The oft-predicted convergence of the U.S. economy with the rest of the world appears to be getting closer after the Fed lowered its projection for rate hikes in 2019 on Wednesday, putting the focus back onto interest-rate spreads and weakening the dollar, currency strategists said.
"Taking a step back, U.S. data is at the highs, so what goes up must come down. The market is in that sort of framework," Jordan Rochester, a foreign-exchange strategist at Nomura, said in an interview on Bloomberg TV. "Good news is jumped on as an opportunity to fade."
After rallying briefly in the immediate aftermath of the Fed decision, the dollar was battered during the Asian and European trading sessions, with the Bloomberg Dollar Spot Index down as much as 0.8 percent to its lowest point since Nov. 8. Options markets, too, soured on the U.S. currency post-Fed. A custom index of one-month dollar risk reversals fell to its lowest level since April, a sign that options traders are becoming less bullish on the greenback.
While the dollar pared some its Fed-inspired losses, weakness resumed in New York trading amid fears of a potential U.S. government shutdown and concerns about U.S.-China relations after cyber espionage allegations.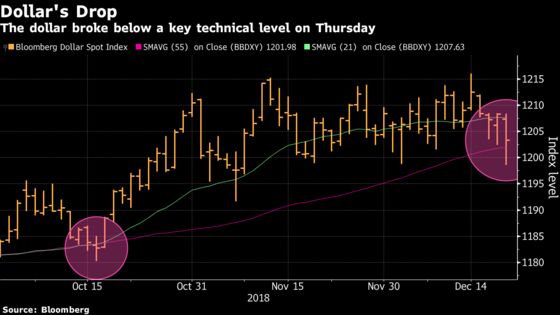 Fed officials' median expectation for the number of hikes next year fell to two from three, with the markets taking it as a sign that American economic outperformance could be starting to fade. That would make the dollar more highly correlated with interest rates than equities, Mazen Issa, senior foreign-exchange strategist at TD Securities, said in a note.
This shift back to a rates focus led to a more than 1.4 percent rally in the yen versus the dollar, part of a re-coupling with U.S. real yields, according to Kit Juckes, a strategist at Societe Generale SA.
The Fed's somewhat dovish tilt on interest rates, in turn, partially drove a rally in emerging-markets currencies that also weighed on the dollar, according to Brad Bechtel, global head of foreign exchange at Jefferies LLC
"It was a bit of a safe haven trade in the first few hours after the Fed, and then that all reversed pretty hard as you went into the Asian session," Bechtel said. Strength in emerging markets was driven by a drop in the price of oil in addition to the Fed's dovish signal, he said.
But with the dollar gradually paring its losses in U.S. trading up into the London fix, the back-and-forth can also be partially chalked up to market volatility before year-end, according to Bechtel.
"We're at the year-end pre-holiday markets, so things kind of whip around," he said. Or, as Societe Generale's Juckes put it, "it's the time of year for overdoing things."