Fed's Bostic Says Temporary Disruptions Could 'Become Permanent'
(Bloomberg) -- The U.S. economy's recovery from the virus-induced recession will get much harder, with more permanent job losses unless there's additional fiscal support, Federal Reserve Bank of Atlanta President Raphael Bostic said.
"I am going to keep talking about this because I think this is important," Bostic said in a virtual speech to the Hale County, Alabama, Chamber of Commerce. "I am hopeful that policy makers in Washington as well as at the state level find creative ways to get that support out there."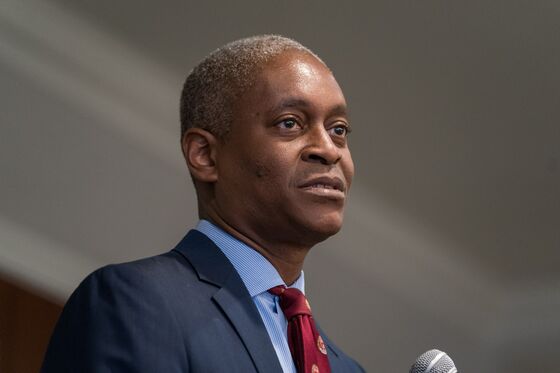 Bostic's comments echoed Fed Chairman Jerome Powell, who told Congress today that there was a need for additional fiscal aid with some of the $3 trillion in support programs expired while the economy has been coming back from the biggest downturn since the 1930s.
"Right now this is the issue," Bostic said. "With relief running out there is a pretty significant chance that some of the temporary disruption and dislocation can become permanent. That just means the hurdle that we have to climb is going to be that much higher."
The Atlanta Fed president said that low-income workers and poorer communities have been hurt disproportionately by the crisis, which has eliminated many lower-paying service jobs at restaurants, hotels and tourism attractions. Orlando and New Orleans are two cities in the Atlanta Fed district particularly hard hit, and will take longer to recover than other areas, he said.
The pandemic "accelerated and exacerbated" inequality, he said.
The course of the virus outbreak will help determine the economy's trajectory, Bostic said, adding he was worried by rising infections in Alabama.