Fed Survey Shows Tepid Recovery in Early July, Outlook Uncertain
(Bloomberg) -- Optimism about a nascent recovery in the U.S. economy was dampened by increased uncertainty over the path of the coronavirus, according to a new report from the Federal Reserve.
"Economic activity increased in almost all Districts, but remained well below where it was prior to the COVID-19 pandemic," the central bank said in its Beige Book survey released Wednesday in Washington. "Outlooks remained highly uncertain, as contacts grappled with how long the COVID-19 pandemic would continue and the magnitude of its economic implications."
The report, prepared by the Chicago Fed, was based on anecdotal information collected by the 12 regional reserve banks on or before July 6.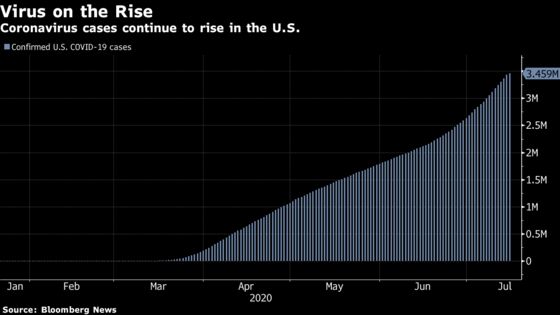 Although economic activity may have picked up at the end of May and beginning of June as businesses reopened, a resurgence in coronavirus cases in many states is driving fears of a new slowdown. California has again imposed lockdown measures, and Texas and Florida have curbed certain activity. Businesses in the Fed's survey reported uncertainty about future demand amid the resurgence.
Fed Governor Lael Brainard pointed to a highly uncertain economic outlook in a speech Tuesday, saying the central bank should turn its focus to providing accommodative monetary policy to support a full recovery. Officials held interest rates near zero at their meeting last month and signaled in their quarterly forecast that they expect to keep them there through 2022. Policy makers next meet July 28-29.
"A late June resurgence in COVID-19 cases slowed or reversed the reopening process, jeopardizing further recovery in consumer spending," the San Francisco Fed noted.
The words "uncertain" or "uncertainty" appeared 16 times in the report.
"In comparison with our previous report, the outlook among contacts is slightly more pessimistic while also much more uncertain," the St. Louis Fed said.
Activity in most sectors remained subdued, the Fed said. Even in industries that saw an increase in demand, such as manufacturing, the jump up was from a very low level, or was a meager one. Energy activity continued to fall on the back of low demand and oversupply.
Employers across the Fed system reported new hirings, but levels remained subdued. Businesses cited both renewed layoffs and difficulty in bringing back workers amid safety concerns, a lack of childcare and higher-than-usual unemployment benefits.
"As firms reopened and recalled workers, overall employment rebounded moderately," the Philadelphia Fed reported. "However, these net gains masked a small, steady stream of permanent layoffs."
The unemployment rate fell to 11.1% in June as 4.8 million people returned to work. But almost 33 million people are still receiving jobless benefits, with an extra $600 weekly supplement set to expire at the end of the month.
Several Fed districts reported evidence of ongoing pay cuts, reduced hours and unpaid leave for employees. Cuts to earnings, coupled with the already-high unemployment rate, could further weigh on consumer demand and damp down inflation, which is already well below the Fed's 2% target. Consumers make up 70% of the U.S. economy.
In the Boston Fed district, "an aerospace manufacturer laid off 7% of its workforce and cut salaries for all employees including senior executives."
Prices were little changed across the 12 districts, though some reported higher costs for food and beverages. Supply chain issues have driven up the cost of food and are leading to rising food insecurity. Grocery prices rose 5.6% in June from a year ago, the largest increase since 2011, Labor Department figures showed Tuesday.
The Fed noted that demand for loans was flat across the system, except for some interest in Paycheck Protection Program lending and residential mortgages.
The Fed opened its Main Street Lending Program to lender registration in mid-June, encouraging banks to lend to businesses, but has faced questions over how much demand there will be for its complex loans. The program fully launched July 6.
Several districts reported evidence of a small bounce back in the leisure and hospitality industry, which was particularly hard hit in the pandemic and saw millions of Americans lose their jobs.