Fed Trio Echoes Powell on Faster Taper Amid Quickening Inflation
(Bloomberg) -- More Federal Reserve officials laid out the case for speeding up the removal of policy support amid higher inflation, adding their voices to the message delivered by Chair Jerome Powell earlier this week.
"I certainly would be supportive of a committee decision to move the end of the taper forward from where people had been expecting it in June," Governor Randal Quarles, who steps down from the Fed later this month, said Thursday in response to a moderator's questions after a farewell speech.
Powell told lawmakers this week that officials should consider speeding up the taper of bond buying at their upcoming meeting to wrap it up a few months earlier than initially planned. He cautioned that a new variant of Covid-19 was a threat to the outlook for both employment and inflation, while noting that the risks of elevated price pressures have clearly risen.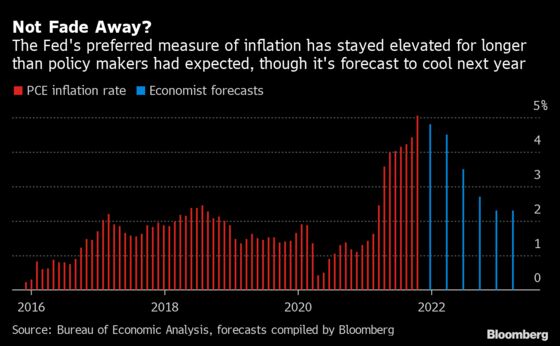 The chair's obvious signal on a potential policy move was unusual just two weeks before a meeting of the Federal Open Market Committee -- he'd usually avoid front-running any decision -- but his colleagues are already lining up in public support.
Quarles' remarks chimed with comments by Atlanta Fed President Raphael Bostic and and San Francisco's Mary Daly, who reiterated their view it might be appropriate to scale back Fed asset purchases at a faster pace. Cleveland Fed President Loretta Mester made a similar case during an interview on Bloomberg Television on Wednesday evening.
Central bankers will get an important update on the health of the labor market on Friday at 8:30 a.m. with the November payroll report. Economists polled by Bloomberg forecast unemployment fell to 4.5% and employers added 548,000 new jobs.
Policy makers will weigh that data and a fresh read on consumer prices when they meet Dec. 14-15, when they will debate speeding up the taper. They decided in early November to wind down bond buying by $15 billion a month, which put them on track to wrap up the process around mid-2022.
Read More: Why the Fed Will Double Taper Pace at Next Meeting
Mester said she would support ending it in the first quarter or early in the second. Bostic said it could serve the Fed well to complete the taper before the end of the first quarter. 
At their meeting, officials will also update quarterly forecasts for the economy as well as their projections for interest rates.
Bostic said that if inflation continued to remain elevated longer than expected next year, the central bank may need to bring forward the date it lifts interest rates from near zero. Forecasts in September showed central bankers evenly split between the need to lift rates next year or in 2023.
"I just saw an OECD projection this morning that suggested that inflation in the U.S. could be above 4% for the year of 2022," he said, referring to the Organization for Economic Cooperation and Development. "If it is at that kind of level, I think there is going to be a good case to be made that we should be pulling forward more interest-rate increases and perhaps do even more than the one I have penciled in." He said that he favored a "slow and steady" pace of increases.
Daly, speaking separately, said that the debate about pulling forward liftoff was "certainly something that I would anticipate we could see and have some of them do more in 2022."