Fear of Pandemic Stirs Up Perfect Storm for Europe Bond Markets
(Bloomberg) -- European debt markets are reeling from the perfect storm of risk aversion as the coronavirus crisis threatens to rapidly become a pandemic.
Investors are dumping anything seen as risky and piling into top-rated government bonds -- especially those of Germany -- for safety, while boosting bets for emergency monetary easing by the European Central Bank.
Yield premiums on peripheral euro-area bonds jumped this week as Italy reported the region's biggest surge in infections, reigniting fears of a recession in the country. On Thursday, rates on two-year German debt saw the biggest intraday slide since June 18, when a speech by former President Mario Draghi presaged a renewal of the ECB's bond-buying program and an interest-rate cut that came in September.
Money markets are now pricing in a 30% probability of a 10-basis-points rate reduction in March, compared with none last week, while a full rate cut is expected by September. The World Health Organization earlier said that the virus that has hit global economic activity has the potential to become a pandemic.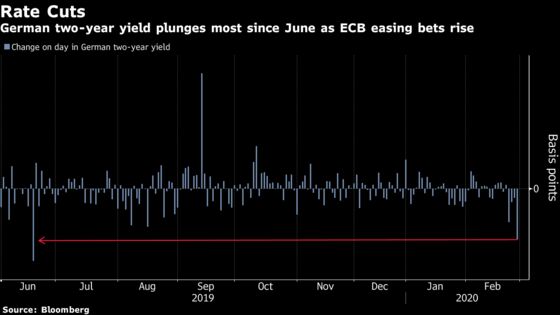 "It is a proper flight to quality now," said Marco Meijer, a senior rates strategist at BNP Paribas SA, referring to the shift out of risky assets into those perceived as safe. "Return of capital is now more important than return on capital."
The yield on 10-year German bonds fell 12 basis points this week to minus 0.55%, sliding below the central bank's overnight deposit rate of minus 0.50%. That suggests the market is expecting a near-term rate reduction, according to Meijer.
ECB President Christine Lagarde said the institution was monitoring the virus outbreak very carefully and said it was not yet at the stage where it would require a monetary policy response, the Financial Times reported on Thursday, citing an interview with the ECB president.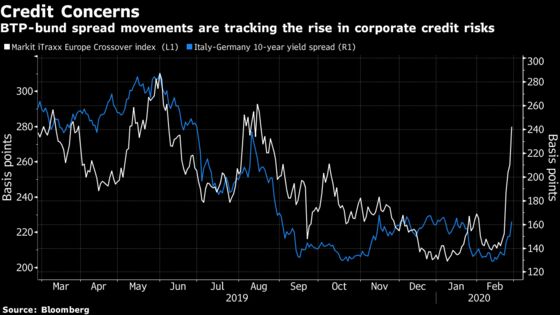 The Markit iTraxx Europe Crossover index of credit-default swaps on high-yield companies rose for a sixth day on Thursday to the highest level since mid-August, while Italy's 10-year yield premium over Germany widened by as much as 16 basis points Thursday to 166 basis points, the most in more than a month.
"Scared is the appropriate way to describe equity and credit markets," said Peter Chatwell, head of European rates strategy at Mizuho International Plc. "Credit risk premia are widening in all markets, which is causing a repricing of peripheral spreads."