Philip Morris's 'Heat Not Burn' Device Is Cleared for U.S. Sales
(Bloomberg) -- Philip Morris International Inc.'s tobacco-heating device has been approved for sale in the U.S. as American health officials grapple with how to help current smokers quit while keeping teens and nonsmokers from starting a tobacco habit.
The U.S. Food and Drug Administration gave the green light to put the device called IQOS on store shelves, it said Tuesday. The agency hasn't yet ruled whether the product, already sold in dozens of countries, can be advertised as less risky than traditional cigarettes -- but it did weigh in on how it stacks up healthwise.
"The agency determined that authorizing these products for the U.S. market is appropriate for the protection of the public health because, among several key considerations, the products produce fewer or lower levels of some toxins than combustible cigarettes," the FDA said in a release.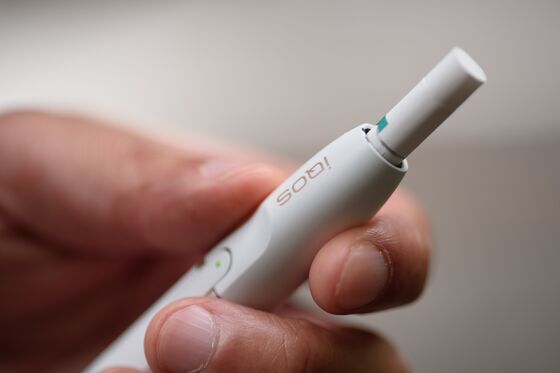 The marketing clearance is a boon to both Philip Morris and sister company Altria Group Inc., which will market and sell the device in the U.S. The companies began co-developing the device before Philip Morris's 2008 spinoff from Altria. They are vying to convert users of their own cigarettes, and those of competitors, as the FDA examines lowering nicotine levels in cigarettes to make them less addictive.
"In just two years, 7.3 million people around the world have abandoned cigarettes and switched completely to IQOS. Today's decision by FDA makes this opportunity available to American adult smokers," Philip Morris Chief Executive Officer Andre Calantzopoulos said in a statement.
Still, it wasn't a total win for the tobacco companies. The FDA approved the device but said it was akin to a cigarette, meaning advertisements will be restricted. A post-market process to monitor youth use will keep an eye on how people use the products, the FDA said.
"We'll be keeping a close watch on the marketplace," it said, including making sure "that the company complies with the agency's marketing restrictions to prevent youth access and exposure."
Shares of Philip Morris climbed as much as 3.1 percent Tuesday in New York. Altria rose as much as 2.8 percent.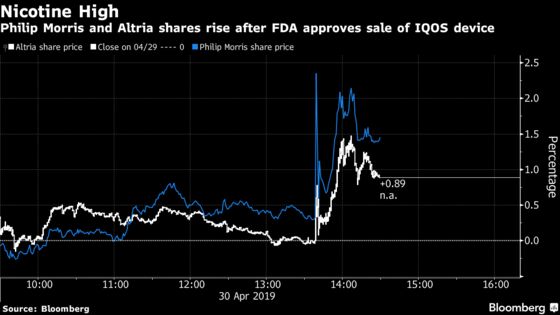 IQOS approval for the U.S. had once been mission-critical for Altria, which has been looking for ways to diversify as Americans move away from traditional cigarettes. It's still important, but maybe less so after Altria took steps last year to hedge against Big Tobacco's troubles -- taking stakes in popular vaping startup Juul Labs Inc. and Canadian pot company Cronos Group Inc.
Altria said it would initially introduce IQOS in Atlanta, with a number of retail locations. That rollout will help it "learn as much as possible, as quickly as possible, and intends to make the most of the company's first-mover advantage in heated tobacco," said Altria CEO Howard Willard.