FBI Investigating U.S. Postmaster DeJoy Over Campaign Donations
(Bloomberg) -- U.S. Postmaster General Louis DeJoy is under investigation by the FBI over campaign contributions made by his employees before he took the federal job last year, his spokesman said.
DeJoy, a donor to former President Donald Trump, "has always been scrupulous in his adherence to the campaign contribution laws and has never knowingly violated them," the spokesman, Mark Corallo, said in an email.
The probe was earlier reported by the Washington Post.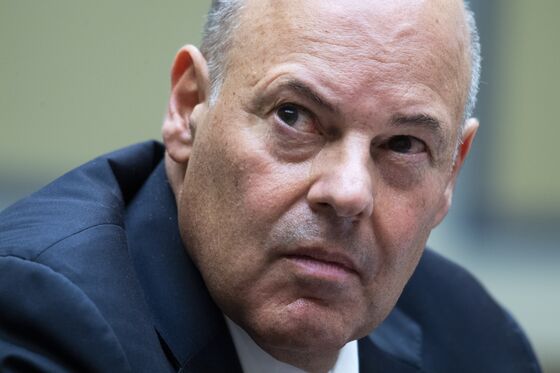 The Post reported in September that while DeJoy led New Breed Logistics Inc. from 2000 to 2014, he allegedly pressured employees to donate to Republican candidates to help him grow his profile as a GOP fundraiser, and used company bonuses to reimburse them, which may constitute an illegal practice.
The Post now reports the FBI has subpoenaed DeJoy for information about the donations and has been interviewing current and former employees of DeJoy. The newspaper cited people familiar with the matter and didn't identify them.
DeJoy sparked controversy with changes at the Postal Service that slowed service ahead of last year's national election that featured heavy voting by mail as people avoided polling places amid the coronavirus pandemic. The changes were put on hold following the outcry and the service's inspector general later said election mail including ballots was delivered in a more timely fashion than in 2018.
DeJoy was selected as postmaster last year by the Postal Service Board of Governors, which was then controlled by Trump appointees.
DeJoy hosted Trump at his North Carolina home and served as national finance chairman for the Republican National Convention, which was scheduled to be held in his home state's biggest city, Charlotte.
Beginning in 2009, DeJoy and his wife gave $2.6 million to Republicans, Federal Election Commission records reviewed last year show.
Greenwich, Connecticut-based supply chain company XPO Logistics Inc. bought DeJoy's New Breed in 2014.
The Campaign Legal Center, a Washington-based advocacy group, in a complaint filed with the Federal Election Commission alleged a pattern by XPO workers like that reported to have occurred at New Breed.
Campaign finance records show instances of XPO employees contributing to the same candidate or committee, during the same period of time, and often in similar amounts, the Campaign Legal Center said. It said DeJoy family members also made contributions on the same day or in the same period as those employees.
Federal Election Commission spokesman Christian Hilland confirmed the agency received the complaint and declined further comment.
Joe Checkler, an XPO spokesman, said the company "stays out of politics."
"Our employees have the same right as anyone to support candidates of their choosing in their free time," Checkler said in an emailed statement. "Whenever our employees support political candidates, they are expected to strictly follow all applicable laws."
The FBI declined to comment on the investigation, said spokeswoman Sutton Roach. David Partenheimer, a spokesman for the Postal Service that DeJoy heads, declined to comment.