Faulty Theranos Test Fueled Miscarriage Fear, Holmes Jury Told
(Bloomberg) -- An Arizona woman who had experienced three miscarriages told jurors that erroneous blood tests from Theranos Inc. prompted a difficult conversation about what looked to be a fourth failed pregnancy.
Brittany Gould's testimony Tuesday gave the jury weighing criminal charges against Theranos founder Elizabeth Holmes its first look at evidence that patients suffered from alleged shortcomings in the startup's technology.
"I had a hard time carrying pregnancies past the first trimester," Gould, a medical assistant from Mesa, said in candid, somber testimony muted by her mask. The results from Theranos required a discussion with her nurse practitioner about "ways to terminate the pregnancy, the options," she said, looking down.
Holmes has pleaded not guilty but faces as long as 20 years in prison if convicted of fraud and conspiracy charges.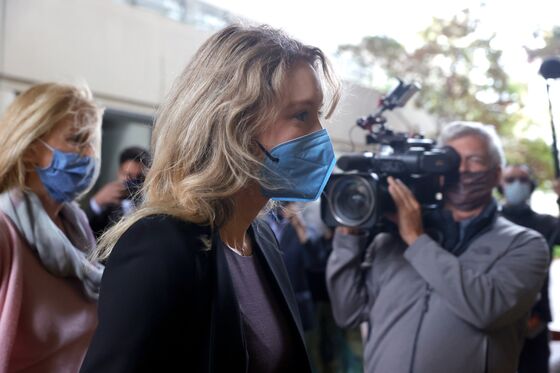 Gould's testimony built on that of former scientists at Theranos who have said that despite their long hours in the company's lab, its blood-testing machines ultimately didn't come close to working as advertised. They explained the pressure they felt -- in some instances from Holmes directly -- to arrive at results unsupported by science. They also said they quit the company because they were worried about harming patients. 
Gould's nurse practitioner, Audra Zachman, recalled that when Theranos had pitched its testing to her employer, Southwest Contemporary Women's Care, the clinic was excited by its possibilities. For Gould, whose health-care plan carried a high deductible, the Theranos tests were attractive because they were less expensive.
Her first test had been processed by SonoraQuest, another commercial lab, and the results showed a healthy pregnancy. But the next two tests performed by Theranos showed first an unusual climb and then a precipitous drop in Gould's HCG levels. In a normal pregnancy the hormone increases steadily.
"I remember communicating to Brittany that it was looking as though this was a non-viable pregnancy," Zachman said, "which would make it her fourth loss." The Theranos results, she said, were unlike any she'd seen in thousands of such tests. They caused "surprise, sadness," Zachman said. 
Two additional tests were run, again by SonoraQuest, and they showed normal, steadily rising HCG levels.
Gould's story ended happily with the arrival of a baby girl. But the skewed data previewed another unsettling twist. After Zachman complained to Theranos, the company corrected the result for Gould's third test -- the one that had revealed a steep HCG drop-off. The new reading matched exactly what Theranos reported in the second test a couple days earlier.
Far from reassuring, Zachman said, an HCG plateau sometimes indicates an ectopic pregnancy, the condition in which a fertilized egg grows outside the uterus. Jurors were shown an email to Zachman from Christian Holmes, Elizabeth's brother, who worked at Theranos.
Theranos tests and systems performed "perfectly well," Christian Holmes wrote. The drop in Gould's HCG appeared because "human errors resulted in the reporting of incorrect result values."
Katherine Trefz, a lawyer for Holmes, seemed to make some progress in her cross-examination of Zachman by confirming that the nurse practitioner hadn't yet detected the most severe indications of a failed pregnancy. Zachman said she encouraged Gould to continue dietary and other protocols as if she were still pregnant, and advised her patient to repeat the laboratory testing.
Trefz also questioned Zachman about her claim that after Gould's experience, she never sent another patient to Theranos for blood-testing. The nurse practitioner conceded that some of her patients did appear to have gone to Theranos after Gould, but it wasn't clear who referred them. 
Gould also testified that in her line of work, she'd never send someone to Theranos because the company's results "can't be trusted."
"You can't provide adequate patient care with inaccurate results," Gould said. Trefz declined to cross-examine her.