Farmers Go Organic in Search of Millennial Dollars
(Bloomberg) -- With crop prices stuck in a multi-year rout, more farmers are chasing price premiums by turning to organic crops.
Higher-value farm products such as organic allow farmers to boost returns over conventionally grown crops. While the number of farms overall in the U.S. from 2012 has shrunk, the number of organic growers has surged, according to the latest census from the U.S. Department of Agriculture published this month. The value of organic farm products more than doubled in 2017 from 2012, the data show.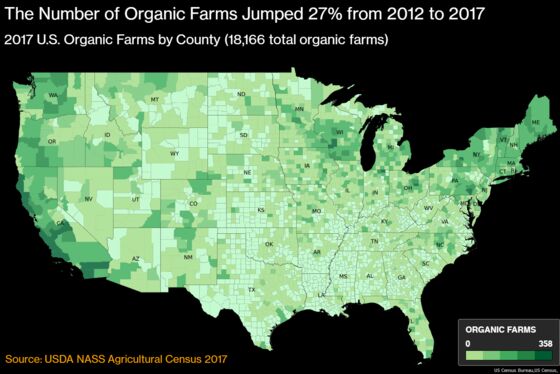 Among the drivers of consumer growth are young families trying to avoid residues of chemicals, antibiotics and hormones in their foods, Laura Batcha, executive director of the Organic Trade Association, said in a telephone interview.
Millennial consumers also are attracted to organic food for animal welfare and environmental sustainability.
"Premiums are there, and the farmers are able to be successful and expand their production," Batcha said. "Organic is continuing to buck the trend when it's a tough time for agriculture."
Indiana farmer Joe Mills said food-grade organic corn that can be made into products like tortilla chips was fetching about $10.50 a bushel, compared with conventional corn of about $3.50 a bushel.
Mills, who farms with his father Don, started to transition land to organic in 2015 and now has 230 certified organic acres. Another 290 acres are going through the three-year transition. While the financial returns are better, Mills said organic farming can be more labor intensive. Weeds, for example, are removed manually at many organic farms, compared with conventional operations where herbicides can be sprayed on fields by tractors or even airplanes.
"A lot of people get dollar signs in their eyes," Mills said by telephone. "Yes, it's economical, but there is a huge learning curve and a mindset change. We relied on commercial fertilizers and pesticides for so long."
Still, record global supplies of corn, soy and wheat have sapped profits for U.S. grain growers. The Bloomberg Grains Subindex is near a record low, and farmers have piled up record amounts of debt.