Family Trust-Tied Novo Stock Soars Over 900% After Move to Nasdaq
(Bloomberg) -- Novo Integrated Sciences Inc., a stock controlled by a family trust tied to its chief executive, surged as much as 276% on Wednesday, a day after it switched trading to the Nasdaq.
"The uplist to the Nasdaq Capital Market creates the opportunity for the company to have more visibility from a much broader pool of investors and, in turn, increased liquidity," Robert Mattacchione, the company's CEO, said in a statement earlier this week.
Mentions of the penny stock picked up steam on Twitter and more than 3 million shares traded hands in the first 15 minutes of trading. The stock had climbed as high as $42 in the premarket after closing at $3.99 on Tuesday. Novo's largest holder, the Mattacchione family trust's ALMC-ASAP Holdings, had a 54% stake as of Feb. 19, according to Bloomberg data.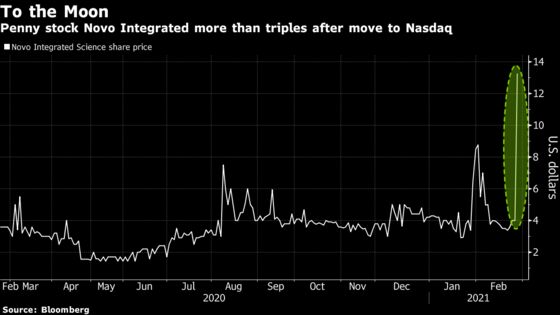 Novo was formed in 2017 by the merger of Turbine Truck Engines, an over-the-counter-traded clean energy technology company, and Canadian clinic operator Novo Healthnet Ltd. Stocks with a low amount of tradeable shares, in Novo's case about 5.5 million, can be particularly volatile and are often the target of daytraders.
Novo director Robert Oliva picked up more than 9,000 shares earlier this week at $4.31 to $4.45 each, according to a filing.