Famed Bond Bull Says Yield Curve Flattening and Rally Are Done
(Bloomberg) -- In a blow to bond bulls, one of the most famous of them all reckons the rally in Treasuries is just about done. He's got good news for anyone fretting a recession, however.
HSBC Holdings Plc's Steven Major is out with new research in which he's flipped to neutral on U.S. government bonds, saying there's little juice left to the rally that has driven long-dated yields ever lower. But at least the Treasury curve may be done scaring traders after turning dangerously flat, inverting in some pockets and sending out warnings on growth.
"For the curve to go flatter from here like it has been for the last five years, you have to believe that rates are going to go up by more than the market currently expects, you have to believe that there's going to be more disinflation or even deflation," Major said in a Bloomberg TV interview on Tuesday. "I don't think that that's likely."
It's a view gaining traction on Wall Street, with Morgan Stanley recently recommending money managers close out any positions meant to benefit from a flatter curve as expectations for Federal Reserve interest-rate hikes dwindle. The shift to neutral on Treasuries by Major, HSBC's global head of fixed-income research, also brings him closer to the consensus after his call for depressed yields made him a consistent outlier as the U.S. central bank tightened last year.
'Steepening Opportunities'
Policy at the Fed is "shifting, perhaps away from relentless hikes" while inflation expectations decline, but not enough to justify rate cuts, Major and his team wrote in a note to clients. Historically low term premiums and break-evens signal the flattening trend is done, they said.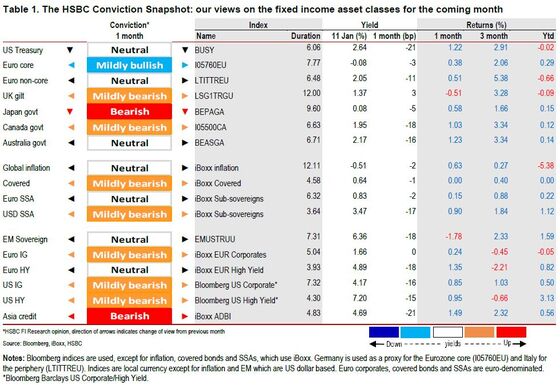 The upshot is that long-dated yields will pretty much stay where they are, while if yields are to go lower it would most likely be led by the front-end, according to HSBC. The bank forecasts that 10-year yields should stay in a 2.6-2.9 percent range for the near term, and keeps its year-end prediction for the benchmark unchanged at 2.5 percent.
"Our view is that the Fed is close to neutral," Major and the team wrote. "Without a high conviction that rate cuts are close, we should be moving away from a duration call and start to examine curve steepening opportunities."