Kraft Heinz to Buy Back Up to $2.8 Billion of Debt
(Bloomberg) -- Kraft Heinz Co. is buying back as much as $2.8 billion of its bonds as the junk-rated company looks to further cut its debt load after closing on the sale of its nuts business.
The company launched a tender offer Monday to repurchase as many as 10 individual notes with maturities ranging from 2028 to 2042. It's at least the second debt buyback for the company this year, after a $1 billion transaction in March.
The company was formed by a megamerger orchestrated by 3G Capital and Warren Buffett's Berkshire Hathaway Inc. that ultimately left it saddled with around $30 billion of debt. Now it's fixing its balance sheet as part of a broader effort to remake itself. An earnings slump before the pandemic spurred S&P Global Ratings and Fitch Ratings to downgrade the company to junk in February 2020.
Since then, Kraft Heinz has shown signs of improving its earnings, helped in part by a pandemic that has boosted demand for quick-to-serve meals. And it's been paying down borrowings.
The company's announcement in February of the $3.35 billion sale of its Planters snack brand to Hormel Foods Corp. prompted Fitch Ratings to lift its outlook for the company to positive, and S&P Global Ratings noted the same month that the food maker had benefited from homebound consumers buying more packaged foods.
Both S&P and Fitch have Kraft Heinz at BB+, the highest junk-bond grade. Moody's Investors Service has the company at Baa3, the lowest investment-grade rating.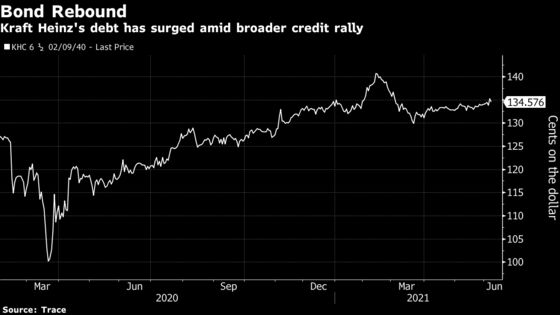 The company had about $34.2 billion of short- and long-term debt as of the end of the end of June 2018, a figure that had fallen to about $27.2 billion by the end of March 2021, according to data compiled by Bloomberg.
Kraft Heinz's debt buyback of as much as $2.8 billion includes principal and premium in its purchase price, but leaves out accrued and unpaid interest, according to a company filing. The offer expires Friday. BofA Securities, JPMorgan Chase & Co. and Wells Fargo Securities are lead managers of the deal, according to the filing.
The following securities are targeted by the offer:
KHC 6.5% 02/09/40
KHC 6.875% 01/26/39
KHC 6.75% 03/15/32
KHC 6.375% 07/15/28
KHC 5% 06/04/42
KHC 4.625% 10/01/39
KHC 3.75% 04/01/30
KHC 4.625% 01/30/29
KHC 7.125% 08/01/39
KHC 5% 07/15/35