Fall in London Covid Cases Raises Hopes Omicron Is in Retreat
Covid infection rates are falling in London, raising hopes that the omicron outbreak is in retreat.
Infections for the U.K. increased to 4.3 million in the first week of January, up from 3.7 million a week earlier, the Office for National Statistics said. England accounted for the bulk, at just over 3.7 million, and the highest infection rate at 1-in-15.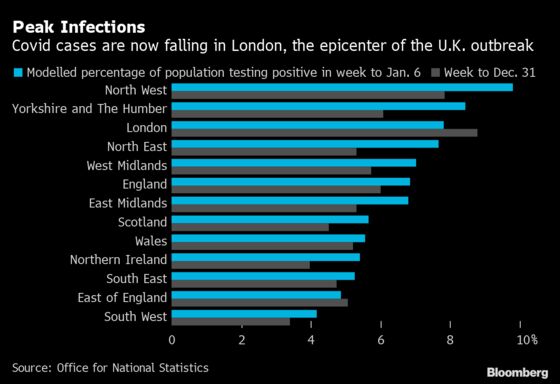 But cases in London, which has been at the epicentre of the U.K. outbreak, dropped from one in 10 to one in 15. The hot spots are now the North West of England and Yorkshire and the Humber, where one in 10 people have Covid.
Signs that the virus may be retreating in the capital provide some hope that the worst may soon be over. A short, sharp surge in cases echoes the experience in South Africa, where omicron was first reported.
The U.K. government has gambled on omicron being highly transmissible but less lethal, particularly for those vaccinated. For the moment, the bet has paid off. Infections have risen to record levels but the number of people on ventilators or dying has remained steady.
Infections have been highest among the young but are now creeping up among the older, more vulnerable age groups, however. One in 30 people in England aged 70 or over tested positive in the latest week, up from one in 45.