Fair Value Reached for Argentinian Peso, Turkish Lira, IIF Says
(Bloomberg) -- A slowdown in the economies of Turkey and Argentina during the past year has corrected current-account imbalances to the extent that their currencies are now trading at fair value, according to the Institute of International Finance.
"Our model says that both currencies have converged to near fair value," analysts including Robin Brooks, IIF chief economist and a former chief currency strategist at Goldman Sachs Group Inc., wrote in a research note dated Feb. 14. "But neither is cheap as current account adjustment is mostly cyclical, with a true 'structural' adjustment yet to meaningfully take hold."
The Argentinian peso is the worst-performing currency worldwide of the past year, having shed 49 percent against the U.S. dollar during the period. The Turkish lira has depreciated 29 percent against the greenback, marking the third-biggest decline globally in the same 12-month time frame.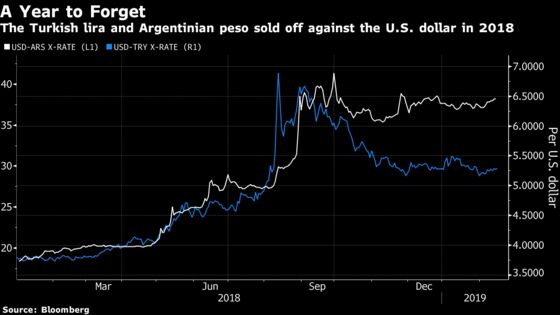 However, the report said that neither currency is undervalued. Much of the current account adjustment in both countries has been due to the economy slowing, rather than a "genuine rebalancing to exports," it said. "That will take time, especially in Argentina, which is half as open to trade as Turkey."