Fading U.S. Tax Tailwind May Breathe Life Into Bruised Emerging Market Stocks
(Bloomberg) -- The outperformance of American equities may be due to wane before long, with emerging markets set for a turn in the sun, according to the Institute of International Finance.
The rebalancing is expected to stem from U.S. companies' repatriation of cash from abroad under the Trump administration's tax legislation. That one-time windfall was partly spent on stock buybacks, which "fed the dramatic tilt towards U.S. equities in 2018," according to analysis by the IIF published last week.
"Investor attention may well shift abroad in the not-too-distant future," wrote Paul Della Guardia, a financial economist at the Washington-based organization, who previously served as an adviser on investment risk in emerging markets.
Allocations to U.S. stocks are nearly 8 percent above their long-term average, while they are fully 20 percent below the norm for emerging markets, IIF analysis shows.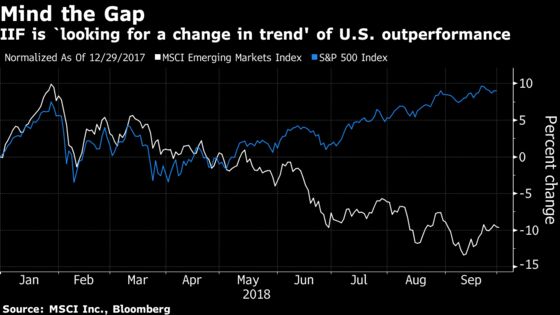 The shift is supported by subdued forward P/E ratios, which lend credence to the view that emerging markets look cheap relative to the U.S.
IIF analysis indicates that the asset class's underperformance might have been driven by retail and ETF investors, while fund-flow data shows institutional investors "have stood by" emerging markets this year, according to the note.
While "optimism on U.S. assets may have a bit more time to run," at some point the impact of Federal Reserve interest-rate hikes and attendant tightening in financial conditions "is likely to see the pendulum swing back," wrote Della Guardia.