Texas Law Targeting Facebook, Twitter Put on Hold By Judge
(Bloomberg) -- A new Texas law that will largely block social media companies like Twitter Inc. and Meta Platforms Inc.'s Facebook from moderating content to root out hate speech and extremism was put on hold by a federal judge hours before it was due to take effect.
U.S. District Judge Robert Pitman in Austin late Wednesday issued a preliminary injunction barring enforcement of key provisions of the law while two prominent technology industry trade groups sue to overturn it.
The trade groups claim the law would force Twitter, Facebook and Alphabet Inc.'s Google to host extremist content in violation of their user policies, while Texas Governor Greg Abbott and other Republicans argue the ban is needed to protect conservative viewpoints from being silenced.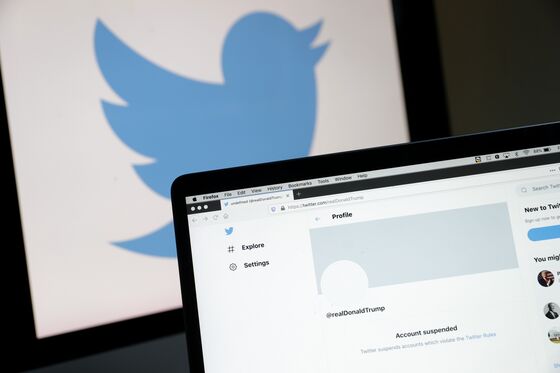 The suit was filed by NetChoice and the Computer & Communications Industry Association, which represent many of the biggest technology companies.
"Texas's law would have forced online platforms to pull the referees from social media sites, giving anti-vaxxers, conspiracy theorists, and insurrectionists free reign," said Adam Kovacevich, head of the left-leaning tech group Chamber of Progress, which filed a brief in the case.
The judge said an injunction is warranted because the trade groups are likely to succeed on their claim that social media platforms have a First Amendment right to moderate content. Pitman rejected the state's argument that they don't get such protections because they're not newspapers and that artificial intelligence is sometimes used to make moderating decisions.
Pitman, a Barack Obama appointee, said he acknowledges that the editorial discretion at social media platform doesn't "fit neatly with our 20th Century vision of a newspaper editor hand-selecting an article to publish.
"It is indeed new, and exciting -- or frightening,  depending on who you ask -- that algorithms do some of the work that a newspaper publisher previously did, but the core question is still whether a private company exercises editorial discretion over the dissemination of content, not the exact process used," Pitman wrote.
The judge also denied Texas's request to dismiss the lawsuit.
Texas Attorney General Ken Paxton didn't return a message seeking comment.
Abbott criticized social-media companies for banning former President Donald Trump from their platforms after a mob of his supporters raided the Capitol on Jan. 6. A similar law in Florida targeting social-media companies was put on hold earlier by a judge in a suit brought by the same trade groups.
Scott Wilkens, a senior staff attorney at the Knight First Amendment Institute at Columbia University, which urged a Florida court to strike down the social media law in that state, said neither Texas nor the social media companies "offered a persuasive or defensible interpretation of the First Amendment." Both views are extreme, he said.
"Texas's version would give governments vast power over public discourse," Wilkens said. "The companies' version would preclude even carefully drafted regulations designed to protect free speech online."
One of the sponsors of the Texas bill, Republican state representative Briscoe Cain, was once suspended temporarily by Twitter for posting "My AR is ready for you" at Texas Democrat Beto O'Rourke, in a spat over gun control.
The case is Netchoice LLC v. Paxton, 1:21-cv-00840, U.S. District Court for the Western District of Texas (Austin).