Facebook Shares at Highest Since August After Nomura Upgrades to Buy
(Bloomberg) -- Facebook added another bull to its collection as Nomura Instinet upgraded its view on the stock to buy from neutral, saying that users were transitioning to the company's Stories feature faster than it had anticipated. The firm also raised its price target to $215 from $172.
"Our concerns over engagement trends at core Facebook have eased," analyst Mark Kelley wrote to clients, citing both internal data and conversations at industry events. Core engagement trends "have surprised us to the upside," and "we expect upside to margins as we progress throughout the year."
Nomura estimated that Instagram Stories produced about $750 million in advertising revenue in 2018. This "should grow to $2.2bn this year and $7.5bn by 2021," Kelley wrote. "This rate of growth may seem aggressive on the surface, but when we compare the growth in Stories to the growth during the transition to mobile in the early stages, the growth rates are fairly comparable."
Shares of the social network rose 2.7 percent and traded at their highest level since August. The stock has gained nearly 40 percent since a December low, although it remains 20 percent below record levels hit in July.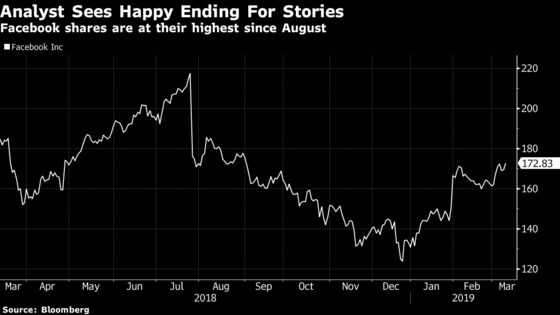 Kelley also pointed to a recent blog post by Facebook CEO Mark Zuckerberg, which read that the company would be focusing on private and encrypted communication.
This suggests "that engagement could improve as the company looks to focus on encrypted and ephemeral messaging across properties, in addition to the current core functionality."
Currently, 41 analysts have a buy rating on Facebook, while nine recommend holding the stock and two have a sell rating. The average price target is $196.