Facebook's Nostalgic Mood Isn't Helping
(Bloomberg Opinion) -- Technology companies don't tend to look backward. Reminiscing is for old fogy companies; new economy superstars look ahead. Lately, however, Facebook Inc. has been reaching into its past to inspire outsiders' confidence in its future. The company's historical musings feel forced and off base. 
In recent months, Facebook officials and supporters have repeatedly flashed back to when Facebook overcame an obstacle that could have crippled it. The company's 2012 initial public offering coincided with a significant acceleration of people using the internet on smartphones rather than on personal computers. Facebook was caught flat-footed by the change. Its smartphone apps were clunky, and it didn't have a sound strategy for generating advertising revenue from users scrolling Facebook on phones. The mobile shift was the biggest crisis for a young company that had weathered many. 
What happened next is a central thread of Facebook's history. CEO Mark Zuckerberg rallied his company to devote its resources and attention to making Facebook successful in the smartphone boom. It dumped a successful advertising strategy to create a new one for smartphones. It worked spectacularly well. Facebook has been among the biggest winners of the mobile technology age.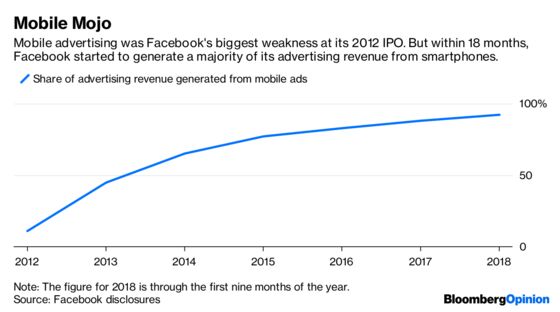 Now, Facebook wants people to believe its mobile turnaround is a parallel for its current crises. The company's lead independent director, Susan Desmond-Hellmann, told Bloomberg Television that the board is confident in Zuckerberg's leadership, which she said he proved in Facebook's smartphone conundrum. "The switch from desktop to mobile required an enormous drive and leadership and a huge change for Facebook," she said last month. Don Graham, the former Washington Post CEO and a mentor to Zuckerberg, also recently used Facebook's 2012 smartphone turnaround to illustrate Zuckerberg's ability to move mountains. 
Last month, Facebook marketing executive Carolyn Everson said Facebook's determination to stop election interference, protect user data and combat misinformation surpasses Facebook's mobile resolve. "I have seen us go through many transitions, and the one that everybody talks about is when we had to become a mobile company," Everson said in an interview. "This is a more important cultural shift at Facebook." On a conference call with analysts last week, Zuckerberg and Sheryl Sandberg compared its  growth-challenged transition period to a previous revenue hiccup as the company shifted its focus to smartphones.
These flashbacks to Facebook's mobile revolution have the same goal: To remind people that Facebook has solved an existential problem before, and to plant the idea that Facebook will overcome its new strategic, social and financial challenges.
"Remember mobile" feels like a mantra for Facebook. But I don't believe that galvanizing moment is instructive for Facebook's current threats on everything from growth slowdowns and changing internet habits to misinformation and abuse online. Worse, I fear Facebook's history of successfully defying doubters is blinding the company to legitimate criticism.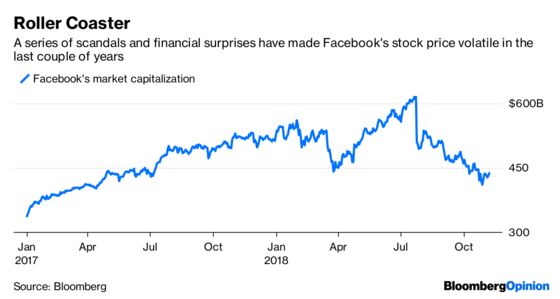 Facebook deserves credit for figuring out a smartphone strategy when few believed it would. But Facebook can't use its mobile history to instill confidence in everything it's doing. First, Facebook isn't a reliable visionary about online trends. And second, its challenges now run deeper and are in areas where it hasn't been traditionally strong.
On Facebook's oracular abilities, recent history contains episodes of the company misidentifying or missing changes in online behaviors. I noted recently Facebook bet big on live web video, as it did with smartphones, but this time Zuckerberg was wrong. Live video looks like a niche activity, not a dominant feature of online life. 
It was also Snapchat, and not Facebook, that led the way to people interacting online in private chat rooms and in video-and-photo montages called "stories." Facebook now says stories are the future of the internet, and it's pushing people and advertisers to the format. If Facebook is right that stories will be a fixture of online communication in the near future, it will serve as a reminder that Facebook was late to see a significant internet trend. The smartphone crisis showed that Facebook was right about a big shift in online activity, but history has shown that Facebook has been wrong in this area, too. That's a useful reminder of the limits of Facebook's mobile rallying cry.
And Facebook's 2012 smartphone reboot was a cinch compared with its current challenges. Facebook now wants to protect elections around the world, weed out misinformation and encourage online behavior that unifies people. Nothing in Facebook's history shows it's up to this set of challenges. 
The stakes are simply higher for Facebook today. This moment is different from the time when users initially revolted against Facebook's news feed in 2006, or when people grumbled about a separate app for chats. And this time is different from Facebook's reboot in response to the smartphone threat. Facebook was right in those moments, but that doesn't make it infallible. 
I worry that its past success has made Facebook overly confident. Despite many warning signs, the company took far too long to acknowledge that foreign-backed misinformation spread on its social network, that it was too cavalier about information it collects about users and that its service could be used to divide people. 
If the lessons Facebook took from its successful navigation of the smartphone boom is that it's always right no matter what doubters say, then that bodes ill for both Facebook and the rest of the world. 
This column does not necessarily reflect the opinion of the editorial board or Bloomberg LP and its owners.
Shira Ovide is a Bloomberg Opinion columnist covering technology. She previously was a reporter for the Wall Street Journal.