Facebook Bulls Cut Projection on Zuckerberg's Instagram Tilt
(Bloomberg) -- Facebook Inc.'s newest strategy to lead with Instagram and video as the company's next catalysts of growth has investors buying in, at least for now. Following a mixed third-quarter earnings report, shares of the social network are climbing the most in six months, up 6 percent in early trading Wednesday.
While Wall Street has sounded off on its confidence in the tech giant's ability to scale, reductions to price targets from Facebook's biggest bulls reveal some level of concern as Chief Executive Officer Mark Zuckerberg begins to pivot away from a feed-centric platform. At least four analysts have slashed their price targets by $30 or more.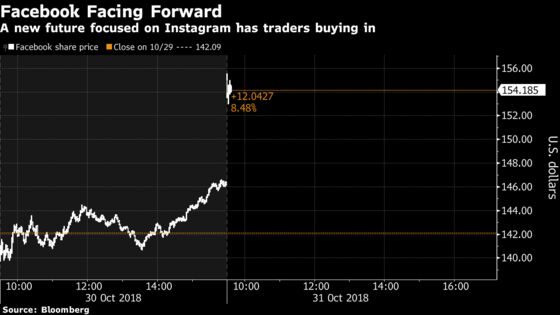 Here's what Wall Street is saying:
RBC Capital, Mark Mahaney
Fundamentals for Facebook in the third quarter weakened, with revenue growth decelerating and operating margin decline.
Still, Facebook has "arguably the best risk-reward in large cap Internet, in our view," writes Mahaney in a note to clients. The firm remains bullish given that Facebook still owns two of the largest media and messaging assets in the world.
Monetization of core Facebook and Instagram assets still have material upside potential and Messenger and WhatsApp are beginning early stages of monetization.
Reiterates outperform rating but lowers estimates and price target to $190 from $225.
In-line results and more clarity on 2019 should offer some relief, Cowen tells clients.
Advertising pricing growth decelerated as impression growth is increasingly coming from ad units like Instagram Stories and developing markets that monetize at lower rates.
Maintains outperform, lowers price target to $195 from $200
"2019 should see bottoming out for margins and pace of revenue growth decel," Patil writes in a note to clients. "We are buyers."
Facebook "also seems to be incrementally more confident in its ability to monetize Stories and execute on the longer-term growth opportunities. We believe this is positive news for the stock, as uncertainty around the forward growth and margins had driven the valuation" less than 11 times 2019 Ebitda.
Maintains positive rating, cuts price target to $220 from $250
Facebook's third-quarter report "was a bit of a mixed bag" with a lighter top-line and user metrics offset by better margins and lighter operating expense growth versus expectations.
"The revenue trajectory from here seems to depend on how effectively the company is able to switch from a feed-centric platform to Stories as the primary driver." A process in which management noted will take some time.
Remains neutral, slashes price target to $161 form $183
The firm is more positive on Facebook coming off of its third-quarter earnings report, adding it once again to the J.P. Morgan US Equity Analyst Focus List as a value pick.
"Expectations are lower as the shares have become more washed out over the past few months."
JPMorgan believes the revenue deceleration is manageable, particularly as Facebook continues to improve advertising products and drive strong return on investment, and as marketers do not have good alternatives to the social platform's scale & returns.
While concerns will remain around engagement and shifting social behavior, Anmuth views the more than 2 billion user base as stickier than many believe. And Facebook is both adapting to and shaping user behavior.
Maintains overweight rating with $195 price target.
Raymond James, Aaron Kessler
Facebook reported relatively in-line revenues for the third quarter, "which were likely better than feared," and positively revised its fourth-quarter revenue deceleration expectation.
Facebook Family of Services (Facebook, WhatsApp, Instagram, Messenger) increased users to 2.6 billion versus 2.5 billion last quarter, and more than 2 billion people use at least one of its Family of Services daily on average.
Retains outperform rating, cuts price target to $180 from $210
JMP Securities, Ronald Josey
"While we acknowledge the impact to profitability from the investments around Stories, Video, and security, among others, we also think there is the potential for significant ROI over the next 1-2 years as a result of these investments."
Investments in Facebook's family of applications "can revamp user growth, improve engagement, and potentially accelerate ad revenue as users increasingly gravitate to Stories, watch video, and communicate via private messages when using online social platforms."
Outperform, lowers price target to $176 from $206
Pivotal Research, Brian Wieser
"As before, we continue to view the long-run revenue opportunities for Facebook more negatively than much of the investment community does because we see limits to growth for the overall advertising industry."
"Facebook's budgets won't be meaningfully altered by the establishment of new ad products for Stories, unless they appeal to advertisers the company doesn't already serve comprehensively."
"Comments on platform security did little to persuade us that the company has a handle on the operational problems it faces."
Sell rating, reduces price target to $125 from $131