Face Recognition Tech Is Everywhere at China's New Mega Airport
(Bloomberg) -- Flying in and out of Beijing may soon be a Minority Report-like experience.
From the ticket turnstiles at the train station, to getting through customs and even buying a duty-free bottle of wine, facial recognition scanners are everywhere at the city's newest airfield: the sprawling, starfish-shaped Beijing Daxing International Airport.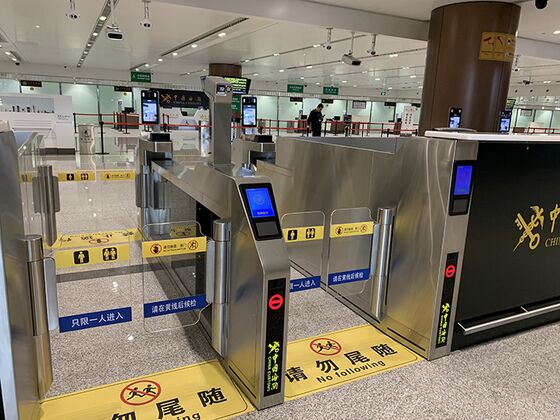 The technology, which links a passenger's face to their passport at check in, will speed up the whole process of moving through the airport, according to Wang Qiang, the deputy general manager of planning and design. Daxing -- which opened in September -- is expected to process more than 100 million passengers a year by 2040. It's a centerpiece of President Xi Jinping's strategic push into aviation, with China set to become the world's biggest air travel market early next decade.
The pervasiveness of the technology underscores how far ahead China is compared with the rest of the world in embracing facial surveillance. While it's being utilized by fast food chains to the capital city's subway system, it hasn't come without some backlash. In October, state broadcaster China Central Television called for laws to regulate the use of facial recognition technology and a law professor sued a local safari park over a mandatory rule requiring visitors to enter through a facial recognition lane.
The tedious experience of getting through airport security will improve thanks to the technology, with four passengers processed every minute at Daxing, according to Wang. Purchases at duty free stores can be made "with your face," he said.
On a recent visit, check-in kiosks for a Chinese airline gave passengers a choice of registering using their documents -- or their face. The technology isn't fully operational, however, currently only used by staff at stations for the Daxing Express high-speed train, according to an official.