Faang Stocks Slide on Regulatory Worries, Reflation Angst
(Bloomberg) -- The Faang megacap stocks fell Wednesday after Democrats won one of two seats in Georgia that they need to take control of the U.S. Senate. The other race remains too close to call.
A blue sweep of Georgia that puts the Senate in Democratic control would be a "clear negative" for big tech, Wedbush analyst Daniel Ives said, raising the potential for more antitrust regulation in the sector.
A Democratic sweep in Georgia would give President-elect Joe Biden's party control of Congress, boosting the odds for increased federal spending that could lift economic growth and spark inflation. With valuations stretched to levels last seen in the dot-com era, tech shares could come under additional pressure as faster price increases make it harder to justify paying as much for future earnings.
Facebook Inc. shares tumbled as much as 4%, Apple Inc. fell 3.4% at the morning, Microsoft Corp. and Amazon.com Inc. each slid 2.7%. Netflix Inc. dropped 3.5% and Google owner Alphabet Inc. fell 2.5%. The Nasdaq Composite Index was off 1.3% intraday while the S&P 500 gained 0.2%.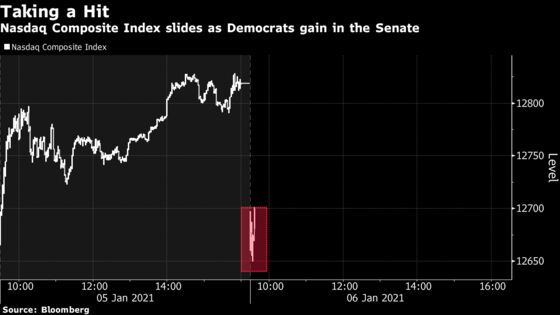 "We would expect much more scrutiny and sharper teeth around Faang names with potential (although still a low risk) legislative changes to current antitrust laws now on the table," Ives said.