Nasdaq Tumbles Into Bear Market as Growth Concerns Mount
(Bloomberg) -- The world's most famous collection of growth stocks just plunged into a bear market, the starkest illustration yet of the growing divide between investors and professional forecasters about the health of the U.S. economy.
The Nasdaq Composite Index tumbled 3 percent Friday, capping its worst week since the financial crisis. It's now fallen 22 percent since its August record, a rout that zapped almost $3 trillion in market value. A rout in the FAANG cohort of Facebook, Apple, Amazon.com, Netflix and Alphabet wiped out $1 trillion alone. The Nasdaq 100 Index also closed in a bear market.
The plunge marks a stunning reversal for a group that easily outpaced gains in all other measures of the equity market. Rising turmoil in Washington, along with the trade war and higher interest rates have damped hope that still-lofty profit expectations can be met.
"Investors are fleeing for the sidelines," Mark Luschini, who oversees more than $70 billion as chief investment strategist at Janney Montgomery Scott, said by phone. "They are highly skeptical that next year will provide the kind of growth, and therefore the earnings environment, that will lift prices. This could represent a new stage in the economic cycle. If tech is resigning the mantle of market leader, do we have another element that can take it?"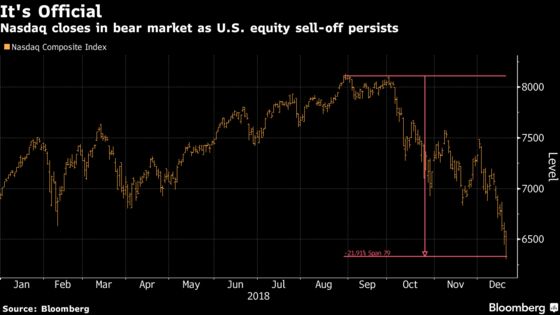 The fall has been swift for an index that as of Aug. 29 was up 539 percent from the March 2009 bottom of the financial crisis. Now, it's mired in its worst December decline ever. Besides Apple and Amazon, which are both down almost 30 percent, the biggest drags since the top are Facebook Inc., down 25 percent; Nvidia, down 52 percent, and Alphabet, down 20 percent.
The losses in the Nasdaq underscore how skittish investors have grown on owning anything that's susceptible to an economic downturn. Utilities and health-care stocks are the only two groups in the S&P 500 that are up for the year.
"There's been a move to defensive areas, while cyclicals like tech are really getting hammered," said Alec Young, managing director of global markets research at FTSE Russell. "Tech had been the highest performer, so it was very vulnerable to a more negative outcome. The big picture is cyclicals are underperforming, tech is underperforming."
The relative speed of the Nasdaq's descent is partly a function of how fast it rose. From its last significant bottom, the correction low of Feb. 11, 2016, the tech-heavy gauge remains up 53 percent. The S&P 500, currently down almost 16 percent from its September record, is up 35 percent over that period.
Amazon.com has lost more than $300 billion in market value since it briefly topped $1 trillion in late August. The online retailer sank 5.7 percent Friday to shave its gain in 2018 to 17 percent. Alphabet, the parent company of Google, fell 3.2 percent, and is trading at its lowest since October 2017.
Facebook dropped 6.3 percent and the sell-off, which has erased 43 percent of the company's value since a July record, left the social-media company at its lowest level since January 2017.
Facebook has recently faced a number of controversies that have kept analysts and investors cautious. Earlier on Friday, Needham cut its price target, citing "rising risks associated with growing global scrutiny." Separately, German broker DZ Bank downgraded the stock to sell and cut its price target to a new Wall Street low.
Apple Inc. fell 3.9 percent to end at the lowest since September 2017. The company has lost more than a third of its value since an early October record, pressured by concern over demand for its iPhones. The decline has cost Apple its title as the most valuable stock on Wall Street by market capitalization. That crown now belongs to Microsoft, which has limited its rout since Aug. 29 to 12 percent.
Shares of the iPhone maker have fallen about 14% this month, putting it on track for its fourth straight negative month, its longest such streak since the last one ended in February 2016.
Netflix Inc. closed at its lowest since January, having lost as much as 7.4 percent on Friday. The video-streaming company has fallen more than 40 percent from a July record, though it remains a strong performer for the year, up nearly 30 percent.