Ex-USC Soccer Coach to Cooperate in College-Admissions Case
(Bloomberg) -- A former University of Southern California assistant coach has agreed to cooperate with the U.S. and testify in the "Varsity Blues" college-admissions scandal, according to court filings.
Laura Janke, 36, a former USC assistant women's soccer coach accused of creating phony athletic profiles for bogus athletic recruits, agreed to plead guilty to a charge of conspiracy to commit racketeering, according to a letter from federal prosecutors to her attorney that was unsealed Tuesday.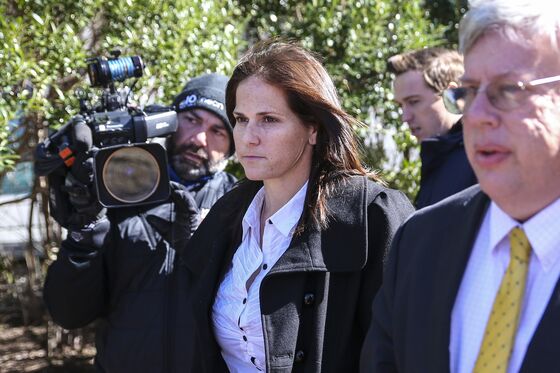 The deal signals the prosecutors are pushing ahead with their investigation into the largest ever college-admissions scandal. Under the deal, Janke will tell investigators what she knows about corrupt college consultant William "Rick" Singer's contacts and other matters. In exchange, prosecutors would seek a prison term at the low end of sentencing guidelines and may urge additional leniency if she provides "substantial assistance." The guidelines likely call for 27 to 33 months behind bars, according to the letter.
In all, the Justice Department says, 33 parents funneled a total of $25 million in bribes and fees through Singer, the admitted ringleader, for a test-taking surrogate to ace the SAT or ACT for their children, or to pay off university sports coaches to get the kids in as phony recruits. Coaches from Georgetown and Yale universities have also been charged.
Janke, who also agreed to forfeit about $134,000 she allegedly received as part of the scheme, is one of at least three former employees at USC to be charged and the first to plead guilty. Janke was previously named in an indictment along with 11 other defendants.
Donna Heinel, a former senior associate athletic director at USC, was accused of playing a central role in the scandal and allegedly helped Singer get students admitted as recruited athletes even if they didn't participate in the sports. Jovan Vavic, a former USC water polo coach who won 16 national titles at the school -- more than any in the school's history -- was charged with working with Singer in the scheme by recommending two students as recruits to USC's water polo team. Both have pleaded not guilty.
USC, in statement, said it is cooperating with the government and is conducting its own internal investigation of the student-athlete admission process. The school said it's also conducting a case-by-case review of any students who may be associated with the alleged scheme and monitoring developments in the criminal investigation, including guilty pleas.
To date, more than a dozen parents have agreed to plead guilty, including actress Felicity Huffman and former Willkie Farr & Gallagher co-chair Gordon Caplan. Earlier this month, two more parents agreed to cooperate. Bruce and Davina Isackson, of Hillsborough, California, were charged with paying bribes to get their daughter into USC as a recruited soccer player and having her admissions-test scores boosted. The Isacksons said they'd plead guilty to a conspiracy charge and will testify in exchange for a lesser sentence.
Separately on Tuesday, another parent, Toby MacFarlane, said he'd plead guilty, prosecutors said. MacFarlane, 56, of Del Mar, California, was accused of working with Singer by paying $450,000 in bribes to get his daughter into USC as a purported soccer player and his son into the school as a basketball recruit. As part of his plea agreement, MacFarlane faces at least 15 months in prison and has agreed to pay a fine of $95,000, according to the government.
Prosecutors said Singer directed Janke to create a falsified basketball profile for MacFarlane's son to get him into the school. No date for the plea hearings has yet been set in the case.