Former USC Coach Pleads Guilty in Basketball Corruption Case
(Bloomberg) -- Former University of Southern California assistant coach Tony Bland pleaded guilty to conspiring to commit bribery, the first coach to admit guilt in a federal probe of corruption in U.S. college basketball.
Bland said he took $4,100 to steer athletes to particular financial advisers and business managers. He told U.S. District Judge Edgardo Ramos on Wednesday that he attended a meeting in a Las Vegas hotel room in July 2017 "to discuss my participation in the scheme" and receive the payment.
Under his plea agreement, Bland could spend as much as 12 months in prison when he's sentenced April 2 in Manhattan federal court. But in a sign the government's case against him may not be strong, the agreement doesn't require him to cooperate in the investigation, and he could get probation instead of prison.
Bland, 38, was among 10 coaches, managers, financial advisers and sportswear company representatives charged in 2017 in a series of prosecutions targeting illegal kickbacks in National Collegiate Athletic Association basketball programs. He was originally charged with taking a $13,000 bribe.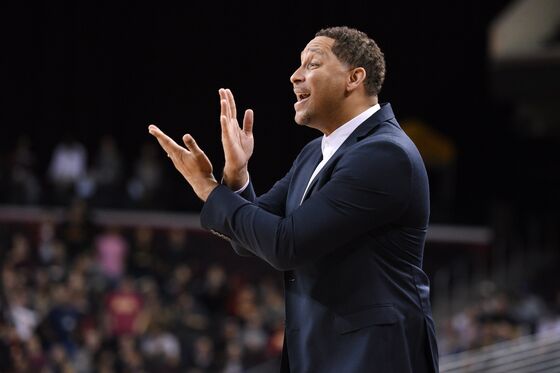 "It's a tragic, tragic day, but we're dealing with the hand we've been dealt," Bland's lawyer, Jeffrey Lichtman, said outside court. Lichtman called the NCAA system for policing its own rules "broken."
A Manhattan federal jury in October convicted three men, including a former Adidas AG employee, of participating in schemes to steer top-ranked athletes to schools including the University of Louisville, the University of Kansas and North Carolina State University. Perhaps the most prominent defendant is Chuck Person, a former National Basketball Association star and associate head coach at Auburn University, who has pleaded not guilty and is facing trial.
The charges followed a three-year investigation by the Federal Bureau of Investigation into criminal influence in NCAA basketball. The alleged schemes include illicit payoffs to steer young athletes to powerhouse schools and into clothing contracts and financial advisory deals.
Prosecutors claimed that business managers and financial advisers illegally paid coaches to send the athletes to them to manage their fortunes once they turned professional. They said that former Adidas employees bribed students to attend universities where the company sponsored athletic programs.