Ex-TPG Star Bill McGlashan Gets Three Months in College Scam
(Bloomberg) -- Former top TPG Capital LP executive Bill McGlashan's decades of good works and social-consciousness fund raising weren't enough to dissuade a federal judge from ordering him to prison after being caught cheating to get his son into college.
"You will serve at least some time in jail, to demonstrate that even the rich and famous cannot avoid the rule of law," U.S. District Judge Nathaniel Gorton told McGlashan Wednesday. "Your enormous wealth, privilege and pride overwhelmed all of what you want to stand for by your words and charity and philanthropy, You entered into a conspiracy to cheat your son's way into a prestigious university."
Gorton ordered McGlashan, 57, to federal prison for three months for paying $50,000 to boost his son's college entrance exam score. The judge said McGlashan was the 10th parent he's had to sentence in the college scam conspiracy, adding the parents' crimes have left him "dumbfounded and appalled."
"I am convinced that you are undoubtedly an intelligent, hardworking, businessman who has devoted significant time, money and resources toward advancing social good," Gorton said before meting out the sentence. "And yet, here you are convicted of a crime that displays an incredible lack of integrity, morality and common sense.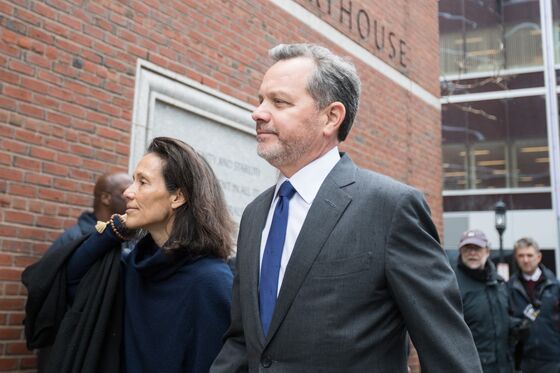 By bribing to fix his son's exam, McGlashan, "in essence stole an admission spot at a college from another deserving student who does not have all of your advantages," the judge said.
Gorton, who could have tossed a plea deal McGlashan reached with prosecutors that included the three-month sentence, said the Mill Valley, California, investment professional's good works, "crime-free life" and the social good he's done, left him confident that a three-month term was punishment enough.
After the scandal broke, McGlashan was ousted by private equity giant TPG Capital and forced out of the firm's The Rise Fund II LP, the social impact funds which he co-founded. That business focused on social good and McGlashan also recruited high-profile philanthropists, business leaders and activists to be part of the effort, according to friends who wrote in support of him. McGlashan's work included funding a dairy business in India and a medical assistance business in Zambia, his lawyers said.
Before Gorton pronounced the sentence, Assistant U.S. Attorney Justin O'Connell argued McGlashan had "lived a double life."
"Publicly as co-founder of a social impact fund, he devoted his career to addressing inequalities through making investments that sought to bring positive change by leveling the playing field," O'Connell said. "But privately, when no one else is looking, he did the exact opposite."
McGlashan, who appeared before the Boston judge by video conference, was accompanied by his wife and three children, his parents, his brother-in-law, and TPG Capital co-founder Bill Price. He began by saying he agreed with O'Connell's assessment of his crimes.
"As Justin said, it's such a conflict with the way I've lived my life and with what I care about, and it's impossible to explain or justify my involvement" in the scandal, McGlashan told the judge.
"In a world where fairness is in such short supply, what I did was totally unacceptable," he said. "If I could, I would express my apology to all the kids and their families who experienced the same stress and fear that I felt about my son but, rather than reverting to an unfair scheme, they bravely live with that fear like everybody else does."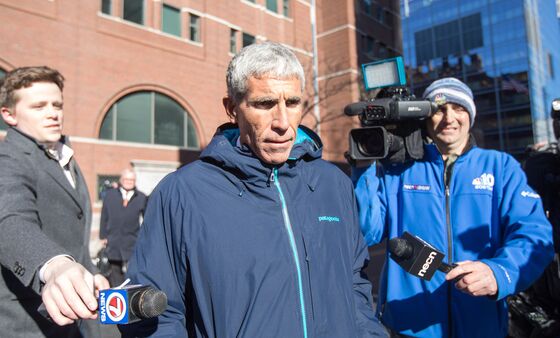 McGlashan's lawyer John Hueston asked the judge to recommend that his client serve his term at the low-security federal prison camp in Lompoc, California, so he can be near his family and surrender early. Gorton agreed, ordering McGlashan to report to prison by June 9 and pay the $250,000 fine agreed to in his plea deal.
McGlashan was one of more than 50 people charged by federal prosecutors in Boston in 2019 in the largest college cheating case ever brought by the U.S. When he pleaded guilty in February to a single count of aiding and abetting wire fraud, McGlashan was the 30th parent to admit to a role in the national scandal.
The sprawling prosecution has claimed other prominent figures in finance, such as former Pimco chief Douglas Hodge. The case swept up entertainment fixtures like Felicity Huffman and Lori Loughlin, and coaches at the University of Southern California, Georgetown, Yale and Stanford.
Prosecutors originally alleged that McGlashan had participated in two facets of mastermind William "Rick" Singer's scheme -- one to pay Singer to fix his son's ACT score and a second, "side door" racket in which he discussed paying $250,000 to get his son into USC as a purported football recruit. As part of McGlashan's plea deal, prosecutors agreed to drop the side-door allegations and three charges including money-laundering conspiracy.
McGlashan's lawyers said McGlashan lost millions of dollars in compensation based on returns generated for investors over 15 years with TPG Growth and the Rise Fund.
McGlashan's sentencing leaves eight parents facing trial. Among them are John Wilson, a private equity and real estate executive who allegedly paid bribes to get his children admitted to Harvard, Stanford and USC as recruited athletes, and Gamal Abdelaziz, a former Wynn hotel and casino executive accused of paying $300,000 to get his daughter into USC as a basketball player. A ninth parent, Robert Zangrillo, was pardoned this year by former president Donald Trump ahead of his trial.
McGlashan's plea deal includes a provision that he can still pursue a challenge to the government's theory that test scores are "property" under the law. If he prevails at the appeals court, he can withdraw his plea.
McGlashan is a seventh-generation Californian who co-founded the socially conscious Rise Fund with rock star and activist Bono and eBay Inc. billionaire Jeff Skoll. Like his father, McGlashan graduated from Yale University and Stanford business school. He worked at Bain Capital before co-founding a venture capital firm.
The case is U.S. v. McGlashan, 19-cr-10080, U.S. District Court, District of Massachusetts (Boston).