Ex-Puerto Rico Secretary Seeks to Dismiss Corruption Case
(Bloomberg) -- Former Puerto Rico Education Secretary Julia Keleher is asking a court to dismiss the corruption charges that helped precipitate the government's downfall last year, arguing she did not illegally steer millions in contracts to insiders.
Her arrest last year was one of a series of developments that caused widespread outrage at the government, triggering street protests that ousted Governor Ricardo Rossello.
The case is likely to loom large during the Nov. 3 governors' election, where the ruling New Progressive Party is trying to convince wary voters that it has moved beyond the cronyism and alleged back-room dealings that brought down Rossello. The wave of revelations that started with Keleher has added to the perception of widespread corruption in the commonwealth, weighing on efforts to restructure Puerto Rico's debt and obtain federal relief after Hurricane Maria.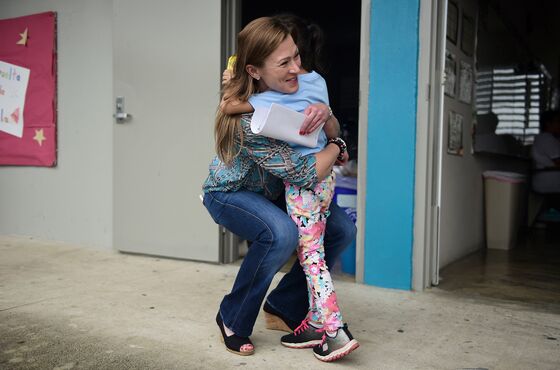 In documents filed in San Juan's U.S. District Court, Keleher's lawyers argued that she was merely doing her job as education chief from 2017-2019 when she awarded more than $13 million worth of work to two companies. They claim the indictment doesn't make the case that the contracts were detrimental to the cash-strapped island or accuse Keleher of receiving bribes or kickbacks from the deals.
"The very thing that one would think would be the basis for a corruption charge is completely lacking and not even alleged," Barry J. Pollack, one of her lawyers, said in an interview. "We think that the allegations are so far off base that, even if they were true, that they would not violate the law."
Keleher, 45, was a rising star in education-policy circles when she was tapped by Rossello to join the administration in 2017, the same year that the U.S. territory -- staggering under more than $120 billion in debt and unfunded pension obligations -- filed for a type of bankruptcy.
Facing budget constraints and the aftermath of Hurricane Maria, Keleher attempted to close hundreds of schools, putting her at odds with the powerful teachers' union.
Her aura as a reformer and technocrat vanished in July 2019, when she was detained by the Federal Bureau of Investigation. She had already resigned in April. A month later, Rossello himself was forced to step down after the contents of a crass and profanity-laced chat group he participated in were made public, the final straw that sparked the massive protests.
According to the 2019 indictment, Keleher pressured subordinates to award a $43,500 contract to Colon & Ponce, a company owned by her assistant's sister. That contract was then increased to $95,000, and the additional revenue was allegedly used to cover part of the salary for one of Keleher's aides.
In addition, the government alleged that the Department of Education awarded several contracts worth more than $13 million to the BDO accounting firm. Despite rules to the contrary, BDO sub-contracted out much of the work and paid a third party a 10% commission for the deals.
"Public corruption continues to erode the trust between government officials and our citizens," U.S. Attorney Rosa Emilia Rodriguez-Velez said at the time of the indictment. "Government officials are entrusted with performing their duties honestly and ethically. The charged offenses are reprehensible, more so in light of Puerto Rico's fiscal crisis."
While prosecutors argued that unauthorized commissions inflate government contracts, the indictment doesn't say that was the case with the BDO deals, Keleher's lawyers said.
In addition, "the payment of commissions is an internal BDO decision," said Maria A. Dominguez-Victoriano with DMRA Law, who is also representing Keleher. "There is no allegation that" Keleher "was aware of it or approved it."
Five other people were also charged in the case, along with Keleher's assistant, the owners of BDO and Colon & Ponce, and Angela Avila-Marrero, the former executive director of the Puerto Rico Health Insurance Administration. All have entered not-guilty pleas.
Keleher has always maintained her innocence.
"I have dedicated the last 22 years diligently working to advance the quality of public education," she said in a statement Monday. "I am innocent and look forward to the time when this case is over, so I can re-engage as a force for positive change in the important work of ensuring all children have access to high quality opportunities to learn."
This isn't Keleher's only legal challenge. In January, she was indicted for allegedly giving public-school land to a developer in exchange for a deal on a condominium in San Juan's Ciudadela complex. Her legal team said they plan to ask for a dismissal in that case later this year.
If she's found guilty in the case of the $13 million in contracts, she could face as many as 20 years in prison.
Previously, her defense had asked for the trial to be moved to the mainland, arguing that Keleher had been demonized in the local press. That request was denied. Dominguez-Victoriano said Keleher made enemies when she tried to shut down schools, and that those policy decisions have been unfairly conflated in with the indictments.
"It is very difficult to have a fair trial with a jury that's picked from a community that is so heavily biased against" Keleher," Dominguez-Victoriano said.