Ex-Pimco CEO Douglas Hodge Cites Giving, Seeks Leniency in College Case
(Bloomberg) -- Former Pimco Chief Executive Officer Douglas Hodge cited donations of roughly 60% of his pay over four years in asking for a lenient sentence on charges that he paid bribes to get his children into the University of Southern California and Georgetown University.
Hodge pleaded guilty in October to fraud and money-laundering charges, admitting he paid hundreds of thousands in bribes to a corrupt college admissions counselor, Georgetown's tennis coach and others. Federal prosecutors in Boston called him one of the "most culpable" of the 36 parents charged in the college admissions scandal and recommended he be sentenced to two years in prison when he's sentenced on Friday.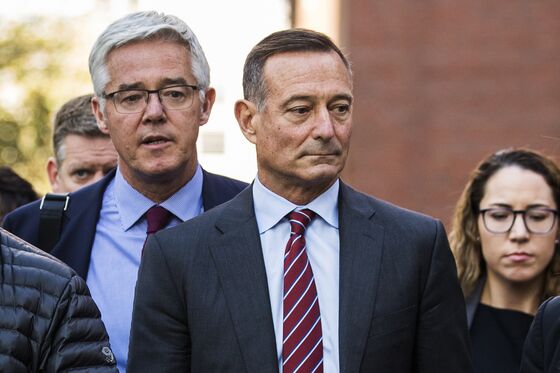 But Hodge's lawyers argue that he deserves a lower sentence because of his remorse and long history of charitable giving, including helping to found a Cambodian orphanage. On Jan. 31, they submitted a memo along with letters from 27 friends, former colleagues and not-for-profit heads who say Hodge has given more than $30 million to educate and care for thousands of children around the world since 2007.
U.S. District Judge Nathaniel Gorton in Boston will sentence Hodge. Defense lawyers did not specify how long Hodge's sentence should be, but suggested in a court filing that he deserved a sentence in line with another parent, Toby MacFarlane, who got six months prison.
In the letters, Hodge's supporters asked Gorton to weigh his crimes against the totality of a life spent "devoted to reducing human suffering."
Hodge's investment adviser said in one letter that Hodge gave away an average of 60% of his pay in the four years before he retired as head of asset management giant in 2017. The letter did not give a figure and Pimco does not disclose executive compensation, but a leaked 2014 document showed Hodge received a $45 million bonus in 2013, the year before he was promoted to CEO , according to his investment adviser at Hollencrest Capital Management. When he retired in 2017, he donated all of his deferred bonuses to help children in need.
"No one I know serves so tirelessly on as many non-profit boards and committees as Doug," the investment advisor, Gregory Pellizzon of Hollencrest Capital Management, wrote. "Many people talk the talk, very very few walk the walk like Doug."
Hodge, who spent several years living in Tokyo with his family while heading Pimco's Asia division, also gave generously to a rural school and orphanage in Cambodia. A 21-year-old architecture student who grew up in the orphanage wrote that he would have wound up living on the streets if not for Hodge's support for the past 12 years.
"Please give him the chance to repay and repair his wrongdoing through more good actions like he has done for me," Mach Sophanit wrote to the judge.
Mark Feigen, who described himself as Hodge's CEO coach, said the charity he and his wife founded to provide mentoring and tutoring for girls in 29 countries had received $17 million in donations from Hodge.
Feigen asked the court to consider "the thousands of children whose lives he has changed, the unfinished good work he is still committed to do, and the depth of his remorse."
Some of the letters blamed the college consultant at the center of the scandal, Rick Singer, for leading Hodge astray.
David Miller, a professor of business ethics at Princeton University, who has been a friend of Hodge for decades, said he has told anecdotes in class about Hodge's strong integrity and was in shock when he learned of the charges. Miller said his friend put his trust in the wrong man.
"Rick Singer is the ultimate confidence man and hustler," Miller wrote. "Singer knew Doug's weak spot was his love of his children and his philanthropic passion for helping the underprivileged. Singer set the trap, accenting the touching mission of his charity, and Doug stepped right into it."
Other supporters also cited Hodge's devotion to his children. Hodge and his wife have been married 30 years and have seven children. His two youngest were adopted from Morocco, his defense said.
Hodge's "remorse is deep and genuine," Miller wrote. "And I am humbled to know that Doug will dedicate the rest of his life to supporting educational endeavors for the less privileged."
Trials for 15 parents still fighting the charges, including actress Lori Loughlin and her husband, could begin in October.
The case is U.S. v. Sidoo, 19-cr-10080, U.S. District Court, District of Massachusetts (Boston).