Ex-Insys Chief Should Pay $350 Million Over Opioids, U.S. Says
(Bloomberg) -- The first pharmaceutical chief convicted in a case linked to the opioid crisis faces a U.S. demand that he pay as much as $350 million to victims, his lawyers said in a court filing seeking to delay his November sentencing.
Insys Therapeutics founder John Kapoor and four other ex-executives convicted of bribing doctors to prescribe the company's liquid opioid said they were blindsided when prosecutors recently asked for $240 million to $350 million in restitution for private insurers and victims of the scheme.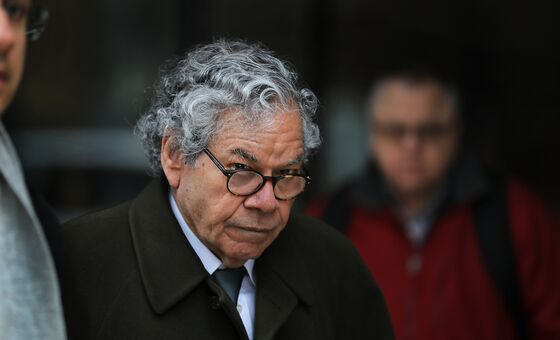 "The interests of justice require that defendants also have adequate time and opportunity to assess the government's position and effectively contest it," his lawyers told a federal judge Wednesday in Boston.
The new demand is in addition to the $17 million in restitution the government is seeking for Medicare prescriptions
Sentencing for Kapoor, who earned more than $1 billion after founding Insys, is now scheduled for Nov. 12. The four other executives, as well as former CEO Michael Babich, who pleaded guilty and testified for the government, are also set for sentencing in November. Kapoor faces as long as as 20 years in prison; prosecutors and defense attorney have yet to submit a sentencing recommendation.
Kapoor's attorneys have asked the judge to throw out the jury's May verdict. They argued that prosecutors wrongly pinned blame for the nationwide opioid crisis on the defendants and never proved the executives encouraged doctors to write prescriptions that weren't medically necessary.
U.S. District Judge Allison Burroughs said during arguments Wednesday that she was reluctant to overturn a jury's finding but remained "concerned" about that portion of the verdict finding that the executives violated the Controlled Substances Act. She has previously called proof of the violation "thin."
Assistant U.S. Attorney Nathaniel Yeager said the full verdict should stand. "We're asking your honor to have faith in the jury's verdict based on the evidence they heard," he said.
Former Insys sales manager Sunrise Lee, a former stripper, said she deserves a new trial because of prejudicial claims made about her. Jurors heard testimony that Lee gave a lap dance to a doctor at a nightclub and were told about an anonymous email sent to the company claiming Lee ran an escort service.
"The jury got this wrong, and they particularly got this wrong in respect to Ms. Lee," her attorney, Peter Horstmann, told the court.
The case is U.S. v. Kapoor, 16-cr-10343, U.S. District Court, District of Massachusetts (Boston).